The Benefits of Joining a Country Club Go Far Beyond the Amenities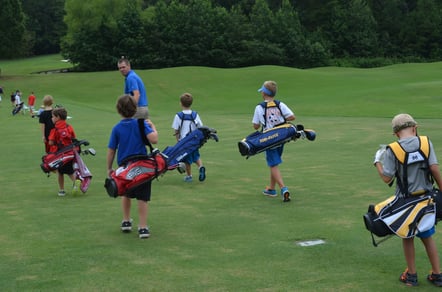 When considering a country club membership, everyone has different criteria. Families want to know there's plenty for the kids to do, couples want a fun getaway retreat, and professionals want to network with the entrepreneurial minds of their generation. Of course, those are all common benefits of joining a country club–the key is finding the right club for you and your family.
Kids learn great life skills growing up playing golf. They build relationships that can last a lifetime and learn admirable traits and values along the way. The community around them can become their social and professional network, giving them a great start in life. As Jack Nicklaus put it, "A kid grows up a lot faster on the golf course. Golf teaches you how to behave."
No matter why you join a country club, you will see the benefits immediately. We asked Greystone Members why they joined, what they like most about being part of a country club, and what they value most as Members of our community. Their responses convey both their love of being Members of a club and why Greystone is a cut above.
Amenities
These are the country club benefits you'll hear the most about (a few of them are probably what brought you to this blog post): golf, racquet sports, aquatics, dining, fitness, and social events are a few of the amenities Greystone is proud to offer our members.
Because amenities will shape your routine at a country club, you should make sure the offerings align with your lifestyle and passions. Don't compromise on something you'll be doing every day, whether it's working on your golf swing, maintaining your fitness goals, eating great food, or getting some good old-fashioned R&R with your closest friends.
Programming and Activities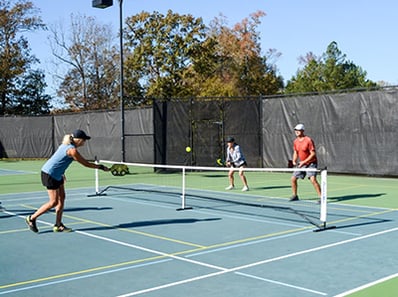 Of course, without programming, a golf course is just grass, a fitness center is just a bunch of machines, playtime is just recess, and dining is just food. The true benefits of a country club membership become apparent when you see how a club builds its culture and strong community through creative programming and memorable experiences for all ages.
Many country clubs staff their facilities with people who are passionate about what they do, which is what can turn a round of golf into an afternoon of camaraderie in the company of friends, or a hot summer's day into a lifelong friendship created at the neighborhood pool. What starts as dinner out can quickly turn into weekly supper clubs and wine tasting events with newfound friends. The next thing you know you'll be creating family memories that turn into traditions that last for generations.
An Extra Layer of Personal Service
Most country clubs offer things you can't find at home, like golf courses and tennis courts, but it's a personal touch that distinguishes country clubs from public activities. Outstanding country clubs have staff who know you as more than a member–they welcome you as friends, and treat you like family. They know your "usual" at the restaurant, your favorite drink at the bar, your schedule, and the way you like to unwind with golf buddies after your round is finished. In short, they notice you and make you feel like you belong.
At Greystone, we take Member service to a higher level and go even further to show our Members preferred treatment and convenience. With fresh-baked pizza delivery, onsite car wash, and lawn care for homeowners, we extend club life from our home to yours. When choosing a country club, it's important that you find a setting that lets you focus on family, friends, and enjoying the community. Gone are the days of meeting your neighbors at the mailbox–today's residents meet their neighbors and engage with the neighborhood at the Club.
Networking Opportunities (Business and Personal)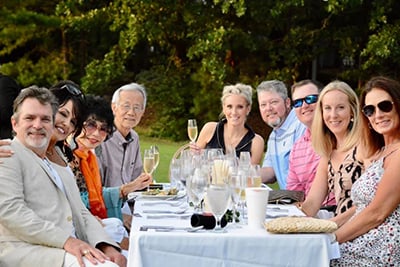 Whether you're a motivated young professional or a C-level executive interested in developing your business network even further, you're likely to find discerning professionals like yourself at a country club. And while buttoned-down corporate events are one thing, the "right" country club is also a place you'll feel comfortable bringing clients to unwind with dinner, drinks, and a round of golf. There's no better place to get four uninterrupted hours with your top client than out on the course!
A country club membership can open doors that can't be opened elsewhere, introducing you to the most influential minds in your field and the leaders of tomorrow alike.
Community
This one doesn't fit in a brochure, but it's arguably the most important benefit of joining a country club. In fact, you could say it's what makes the other benefits work. A gathering place close to home, maybe even in your neighborhood, is essential to connecting with the people closest to you.
But the community at a country club is more than just the people around you it's the unique setting created when individuals with similar goals come together to create and enjoy new experiences. It's the feeling that you don't just belong to something, but that you're actually part of making it better. That feeling can only happen at a country club that's approachable, accessible, and constantly evolving to match its members.
At Greystone Golf & Country Club, we're proud to provide excellent amenities, benefits, and social community to our Members every day. Find out more about becoming a Greystone Member with our downloadable Membership Guide.