A Million Ways for Kids to Enjoy Summer at Greystone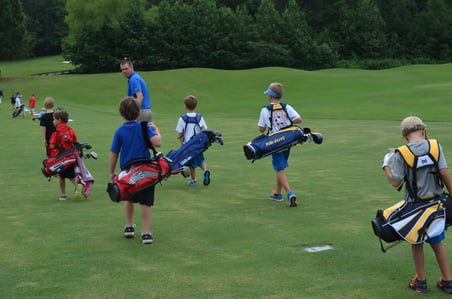 You can give your kids the 'BEST SUMMER EVER' at Greystone Golf & Country Club in 2022. There are great new amenities, big additions to the pool, and a friendly new face. But if it's going to win as the 'BEST SUMMER EVER' it has to include the summer camp at Greystone. Camp is open to kids ages 5-12 and will be running for four full weeks (week one is already full!): June 27-July 1, July 11-15, and July 25-29 are the remaining weeks with availability. Also, you don't have to be a Member to enjoy the perks of summer camp!
The camps include arts and crafts, golf, tennis, swimming, and more. Each week of camp has a different theme (jungle safari, superheroes, and pirate/princess) so you may want to plan on attending more than one week.
Making a Splash
Of course for many kids, the most important part of summer is time spent by the pool– there is plenty of that at Greystone. Get ready to hear shrieks of laughter from the three brand new waterslides in the family pool this year.
The other new addition is Jo Teal. Jo is the new Aquatic and Youth Activities Director and brings with her a wealth of experience - including an Olympic medal.
Jo joined Greystone in 2022 and says General Manager Dave Porter "loves to tell everyone that I'm a Bronze medalist." Teal received that medal at the 1988 Seoul Summer Olympic Games when she was just 14 years old.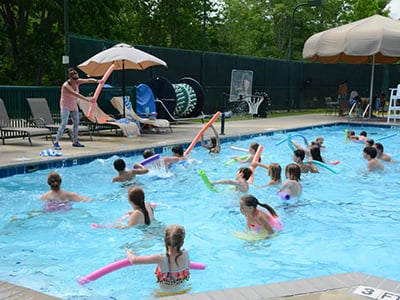 Jo holds a doctorate in Sports Administration, is an EMT, and an American Swim Coaches Association Level 3 Certified Coach. She'll be reconvening the Greystone Gators Swim Team with Monday through Friday practices starting May 31. The Greystone Gators is a welcoming environment designed to support kids in growing as swimmers. Ages 8 and under practice at 8:45am each weekday. Ages 9 and up get started at 9:30am.
The Gators have historically averaged about 40 participants per team and Jo hopes to grow that even more. She knows friendships are built on teams and many Greystone families have children who have formed long-lasting bonds through hours spent working together as Gators.
To officially kick off the 2022 summer season, the pool will open to Members on May 26, ushered in by the annual Margaritaville-themed Memorial Day Party on May 30. Each month thereafter, a full slate of youth activities is expected. From swim lessons to dive-in movies, from kids' night out to a newly created "mermaid school." And don't miss the underwater-themed carnival and back-to-school bash planned for August.
Jo also wants to "bring the fun" for kids at Greystone all year round, so look for more exciting activities for Members to be a part of once school does get back in session. But remember, squeeze as much fun as you can into these precious summer days - something that's much easier with all the great options available to you at Greystone.
Geared for Kids
Greystone parents love they can give their kids so many choices for staying active and socializing during the summer months. There is no better place in Alabama to be a young golfer than Greystone because the Legacy course is home to the Blackburn Golf Academy, which offers students of all ages and abilities a state-of-the-art teaching center. Mark Blackburn, who was named one of the 50 Best Teachers in America by Golf Digest, leads the academy. Kids can take private lessons or participate in clinics to learn the game and the valuable life skills that come with it.
The same is true if you want to get your kids into pickleball or tennis. Kristijan Mitrovski, USTA Alabama Tennis Professional of the Year, and his staff offer clinics for beginners and juniors, as well as private lessons. The completely renovated Greystone Racquet Center is unrivaled in the Birmingham area.
Plus, the much-anticipated new Lakeside Activity Center includes four pickleball courts, a regulation-sized basketball court, and the chance for kids to catch some fish in the freshly stocked pond by the 9th hole of the Founders Course. You can even spend your days on the water with pedal boats available for rent by the hour every Saturday and Sunday from 10 am to 6 pm, May through September. Your kids will be excitedly exhausted from all the fun at the end of each summer day they spend at Greystone. And, in the decades ahead, when you ask them to remember the summer of 2022, they'll tell you it was the 'BEST SUMMER EVER!'