The Impact of Kids Playing Golf & Growing Up in a Country Club Environment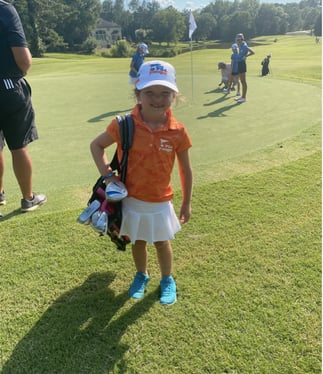 Much has been written about the phenomenal career of Jack Nicklaus. The winner of 73 professional tournaments and a record 18 Majors, many still consider him the greatest of all time.
What may be less well known about the "Golden Bear" is that he is also considered to be one of the greatest "gentlemen" in the history of the sport. Other players and fans have always extolled his demeanor both on and off the course, magnanimous in victory and gracious in defeat, always courteous and respectful toward competitors and fans alike. In short, in addition to his incredible talent as a golfer, he has always been a role model as a person, the kind that all parents hope that their child will grow up to be.
Where did the young Jack Nicklaus learn and develop these admirable traits that came to define him throughout his life? Well, he's talked about this many times over the years. He attributes it first and foremost to the way that his parents raised him. But notably, he also credits the game of golf and the time he spent as a junior member at Scioto Country Club, the venerable private golf club just outside Columbus, Ohio.
Recalling the impact that junior golf and his membership as a junior golfer at Scioto had on his own development, he talks about golf as a sport unique in its ability to mold a young child's character and personality, teaching them valuable life lessons that can help to shape who they become as they move from adolescence into adulthood. As Jack put it, "A kid grows up a lot faster on the golf course. Golf teaches you how to behave."
Jack Was Right, and Research Confirms It
There's been a lot of research conducted over the years that has documented the many benefits that kids derive from participating in sports in general, and in golf specifically. And the findings generally confirm empirically what Jack Nicklaus had experienced personally -- that junior golf can help to establish a foundation for life, helping to put the building blocks in place that become permanent positive habits and patterns for success that ultimately permeate all aspects of a person's life. Also, from a pure golf perspective, learning the proper fundamentals at a young age will help ingrain the right mechanics so that they will become part of their "swing DNA" for life.
One of the foremost experts who's been focused on this issue for over 30 years is renowned golf psychologist and best-selling author Dr. Ronald Mann. His career has been dedicated to studying the subject of golf and sports psychology. His most recent book, titled Coaching the Junior and Collegiate Golfer, outlines a comprehensive training program for coaching the mental game of golf with a specialization in younger players.
In it, he discussed his findings based on years of observing junior players and how they can benefit from participating in golf at a young age. As Dr. Mann summarized:
"Working with this age group is huge because we are teaching them foundational principles for life. Their golf game will improve, but more importantly, they will become better citizens, have better relationships, get better grades, have successful careers, learn greater empathy, a genuine concern for others, and become more disciplined and empowered to overcome all of life's challenges. These teachings move well beyond the course to the game of life."
Demonstrating the Junior Golf / Life Lessons Linkage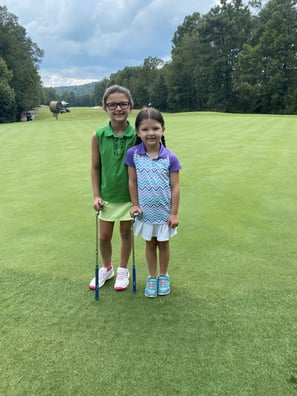 Perhaps more than any other junior golf program in the country, The First Tee organization exemplifies this nexus between junior golf and child development.
The First Tee is totally committed to the notion that golf is the perfect platform from which young kids and teenagers can learn not just how to play golf, but essential life skills at the same time.
For those unfamiliar with this wonderful organization, The First Tee is a nonprofit organization with 1,200 locations around the country. Founded in 1997, their mission is centered around educating kids between the ages of 7 – 18 through programs that build character, instilling values that will help them blossom as young adults, and promoting healthy choices through the game of golf. By integrating the game of golf with a life skills curriculum, The First Tee attempts to build inner strength, self-confidence, and resilience in their participants.
They structure their entire program around what they call the "Nine Core Values." They make sure to incorporate these core values into every golf lesson, every drill, and every round the kids play. Why these nine particular core values? Because they are inherent to the game of golf and they are essential traits that kids need to develop to be successful in life. The First Tee Nine Core Values and some examples of ways that they are fostered:
Honesty - Always being truthful, reporting your own score and calling penalties on yourself
Integrity - Being responsible for your actions and personal conduct on the golf course, even when no one is looking
Sportsmanship - Observing the rules of play and winning or losing with grace
Respect - Showing respect for your playing partners, other competitors, the golf course, and the traditions of the game
Confidence - Increasing confidence in your ability by being positive and focusing on the things you are doing well regardless of the outcome
Responsibility - Being responsible for your actions on the golf course, understanding the rules, taking care of your equipment, repairing balls marks and divots, and keeping up pace of play
Perseverance - Learning how to react to failure, being able to persist and continue on even when things aren't going well in the round
Courtesy - Being friendly and always being considerate to playing partners, starting and ending a round of golf with a handshake between competitors, acknowledging a good shot
Judgment - Deciding strategy, club selection and when to play safe and when to take a chance, making healthy choices on and off the course
Clearly, these aren't simply core values for the participants in The First Tee, nor are they core values for just golfers in general. They are principles and traits that can benefit all of us in our everyday lives. Golf serves as a conduit through which they are instilled in young players.
Although The First Tee has formalized these teachings as part of their program, it's clear that these same values are learned by all young kids who participate in junior golf at golf clubs around the country, like those who become involved with the excellent junior program available at Greystone Country Club.
Junior Golf at Greystone
The Members at Greystone are extremely fortunate to have one of the best Junior Golf programs in the state. It is primarily structured and run by the Blackburn Golf
Academy, the highly-rated, world-class teaching facility located on the range at the Legacy Golf Course.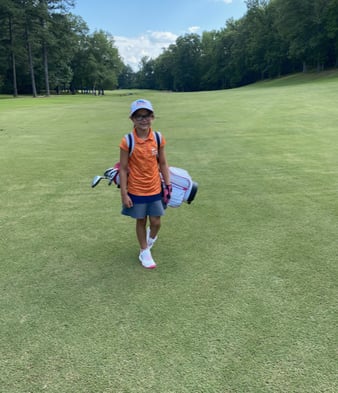 Mark Blackburn and his team have put together an exceptional program focused on providing juniors, regardless of their skill level, with a fun learning environment that emphasizes long-term skill development over technique. Kids not only learn the game from some of the best instructors in the country, but they have a great time with other juniors in the club participating in all the varied learning opportunities: group lessons, summer camps, and even tournament play.
Greystone Members Jeff and Jamie Foster have both of their daughters, 10-year-old Caroline and 8-year-old Annabel, involved in the Junior Golf Program at the club and are thrilled with the positive experiences their girls are having and the values they are learning.
As Jeff put it, "As a lifetime golfer myself, I see the true value of golf as a sport for young people. It's a sport that you can enjoy for life and there's no better start time for my children than when they're young. I love the sportsmanship and competitive nature it instills in my daughters."
Both members of this dynamic duo have taken individual lessons at the club and have participated in group lessons as well, and of course they love completing the foursome by teeing it up with Mom and Dad as often as possible. And they absolutely love the time they spend learning from Max and Liz at the Blackburn Academy. These coaches want to provide instruction to help them improve at golf, of course, but make no mistake, the emphasis is on FUN.
Greystone, a Club that Caters to Families
Not every club is as accommodating to younger golfers as Greystone is. Current Members have no doubt observed and experienced this. But if you're a non-member with kids and are considering joining the club, you may be wondering what kind of atmosphere the club offers for families in general and for your junior golfers in particular.
If you're in that group, Jamie Foster has some advice for you: "I think it's a great community of families for your children to grow up with. The friends that they make at the club will be lifelong relationships. Whether it's golf, tennis, or anything in between, I would encourage folks to join and get involved. The club is so receptive to children and there are so many opportunities for them to get out and make new friends while learning a lifelong sport."