Christmas in Alabama Means Family Traditions at Greystone for the Spitzer's
As the weather starts to cool and days by the pool become a faint memory, everyone at Greystone Golf & Country Club begins to look forward to the holiday season. Many Club Member families, like the Spitzer's, anticipate the arrival of the festive, old-time Christmas that encompasses Greystone throughout December. The three Spitzer daughters – Elle (11), Peyton (10), and Eve (6) – have taken part in the cheerful Club gatherings for as long as they can remember.
Shortly after Katie and Mikey Spitzer were married, they became Members of the Club. "My husband grew up as a Member," Katie shares, so it was Mikey's parents who got the newlyweds involved. "We live a mile from the Club, so it's very convenient. When we joined we didn't know anybody, but now it seems we have made millions of friends. There are a lot more people our age than there used to be, and so many young couples just joined this past year."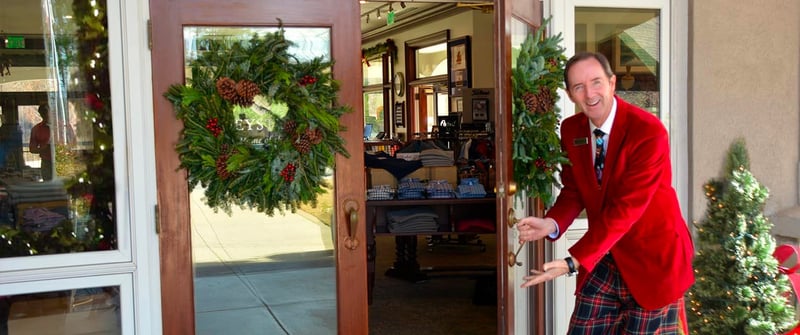 "The Club has definitely grown and is more geared towards these younger families, which is great. It's a fun community, it's so nice being close to the house. We can pop over for dinner and it's not like going 'out-out' to a restaurant, it's more like home – a second home."
Since Greystone is conveniently nestled among many exemplary schools, it's the perfect place to raise a family. The Spitzer girls have lots of close friends and classmates who also look forward to Christmas time at Greystone.
We Never Miss Brunch with Santa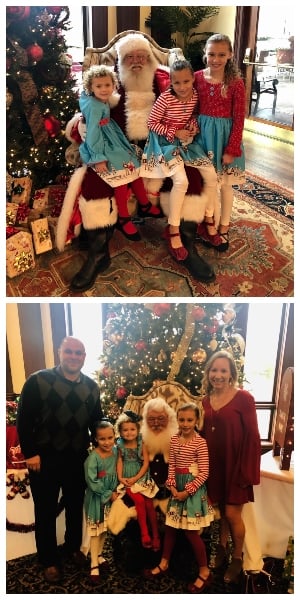 Katie's side of the family lives in upstate New York, so the Spitzer's travel for December 25th every-other year. But fortunately, Holiday events run the full month at Greystone beginning with a Santa Brunch held the 5th, 11th and 12th this year. Peyton and Elle first visited Santa at Greystone when they were just one and two years old. "We started that as our tradition," says Katie, "and we're always here for that."
The girls sit on Santa's lap, tell him what they want for Christmas, and leave with a personalized, wrapped present from the big guy himself. Santa guarantees all Greystone Christmas lists make it safely to the North Pole.
Pictured here are Mikey Spitzer, Peyton, Eve, Elle, Katie, and Father Christmas.
Dickens Dinner Pairs Elegance and Kid-Friendly Perfectly
When the Spitzer's are at Greystone during the holiday season, they always make sure to attend the traditional Dickens Dinner. It includes carolers and horse and buggy rides outside to view the Christmas lights.
"We love it," says Katie. "It is something we simply love to do…It's a very fancy dinner. They serve prime rib, popovers, sweet potatoes, and old-fashioned figgy pudding. They serve stuff you wouldn't normally have at home, or at least I wouldn't cook because I'm not a fancy cook."
While this is an unforgettable meal for adults, rest assured there is something for everyone. Children can opt for mac & cheese or chicken tenders if that's their idea of the perfect Christmas feast. The whole dinner is "a lot of fun for the kids, they look forward to it." says Katie. "It's an elegant event that is kid friendly! At the end of the day, the event is for the children."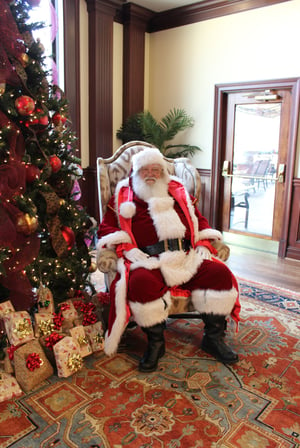 While parents dine and converse, children are invited to indulge their sweeter side at the Candy Land Bar: a long table covered with every goodie imaginable. Children are also invited to venture to the Ornament Craft Table where they can construct that year's special ornament. "Our tree is full of homemade ornaments," says Katie, and she wouldn't have it any other way.
After dinner, "there is a tree lighting with the big Christmas tree in the foyer," says Katie. "They just do a really good job making it special for the kids."
After the final touches on the tree are made, Club President Dale Gorham reads "A Visit from St. Nicholas" (aka "'Twas the night before Christmas"). "All the children sit on the floor right in front of the Christmas tree, and they dim the lights," recounts Katie. It is a serene and magical site. "This is a very special, old-time Christmas moment."
"That's what a Club is all about, to be a place where family gathers and traditions are created and kept," shares Ashley Devine, Greystone's Membership Marketing Director, "After last year, how wonderful it is to be able bring families together to connect and create holiday memories once again.
Be it delectable food, warm company, or classic Christmas decor, Greystone has a little something for everyone this – and every – holiday season. If you are looking for a romantic way to celebrate the holiday, you are invited to attend Greystone's Candlelight Dinner at the Legacy Clubhouse held on December 16th and 22nd. Turning the calendar to December is a nice reminder that a Club Membership at Greystone comes complete with a community filled with love, good tidings, and unforgettable family traditions.