Corporate Membership at Greystone has its Perks
Despite the cliche that business gets done on the golf course it has long been considered gauche to actually conduct business on the course. Deals get done in boardrooms (or via Zoom), but relationships (and friendships) with potential new clients, current clients, employees, or peers in the business community can grow much stronger over a fun round of golf.
"The main reason we joined Greystone was for community," says Harry Pearson, CEO of OneAscent, a financial advisory firm in Birmingham. "As a younger man, it was all about me shooting well and seeing how good I could be. Now, coming out of COVID, I just like getting out there and having four hours of relationship time with somebody. I get to know what's going on in their life, with their family, their kids, and grandkids, and I don't really care a lick about how well I play. I'm having fellowship in a beautiful setting."
Like many of the Corporate Members at Greystone, Harry appreciates the broad range of amenities available beyond golf. His wife uses the state-of-the-art Fitness Center, and he's looking forward to a campout on the driving range one day with his grandchildren.
"Another simple thing is just having musical entertainment," says Harry. "My wife and I just wanted to grab some dinner, nothing fancy. We came out to the patio overlooking the 18th green at the Founders and there was a guy playing a guitar and singing some Johnny Cash. It's just a fun atmosphere."
Corporate Membership Perks
A Corporate Membership includes access to all Club amenities and equity at Greystone. It gives you access to two championship golf courses (Founders and Legacy), the driving range and practice facilities at both courses, the Tennis Center, the Aquatics Center, the 24/7 Health and Fitness Center, and enough social events and activities to fill your calendar year round.
"It has two golf courses that I really, really like," says Rob Grubb, Chief Operating Officer at OneAscent. "I have friends at Shoal Creek, when they're having a tournament or an event you're out - there's nowhere for you to play. At Greystone, you can be out on one course while an event or tournament is going on on the other."
A great benefit of the Corporate Membership is that it is fully transferable. Once purchased by a company, the investment can be transferred as executives come and go, and additional Corporate Memberships can be easily added at a reduced rate. There's even a Young Professional Membership available to those under age 35.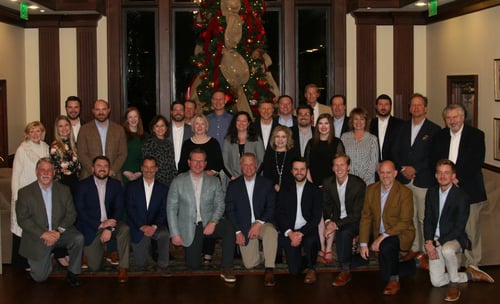 "For me, it's been a way for me to care for my team and my leaders," says Harry. "We have 43 employees, and Greystone gives us a chance to build a relationship with them, to serve them, allow them to have some fun, whether it's lunch or dinner, or comradery, or playing there at the Club."
Since the spring of 2022, Members have also been able to enjoy the Lakeside Activities Center next to the pools. It will include new pickleball courts and a full-size basketball court. There'll be a dock put in, and the lake will be dredged and stocked with fish so Members can do some fishing.
"I've been a Member of another club for probably 10 years," says Harry. "I probably only used it once or twice a year. At Greystone you have all these amenities, a full calendar of creative events, and multiple restaurants. We're using the Club four or five times a month."
Setting the Table
Food is certainly another major perk at Greystone. Members enjoy several exceptional dining options, including Aqua, Cellar 91, and the Founder's Cafe.
"From a restaurant standpoint, the 280 corridor has lots of options," says Rob. "So why would I take somebody to a meeting at a restaurant instead? The reason is because of the intimacy of the environment that allows you to have a business conversation without having to battle through loud dishes and loud conversations around you. The excellent service and a different environment do it for me."
The food is part of the reason Harry holds OneAscent's quarterly shareholder meetings at the Club. They also decided to have the company's Christmas party there for the first time in 2021.
"I appreciate effort and excellence, and from the course, to the food, to everything that I've experienced to this point there has been excellent. People don't mind paying for something when there's value there. And I think the value-add has been fantastic."
Harry knows that whether he's rewarding a hardworking employee, trying to recruit someone new to his firm, or growing a relationship with one of his clients, he can rest assured that Greystone will help him do it.
"Danny Meyer, who owns Shake Shack, has a book called Setting the Table," says Harry. "In it he writes 'do whatever you have to do to create a positive outcome.' And that's what I think about when I spend time with people in this beautiful place. I know those people appreciate the effort, and they appreciate being cared for. And so that creates that positive outcome that people really care most about. And Greystone has allowed me the opportunity to do that."