Growth at Greystone: Member Amenities You Can't Find At Just Any Country Club
Though it came at the end of the 2021 pool season, the 12-foot, double slide just installed at Greystone's family pool was a prelude to more exciting things to come.
Just adjacent to the pool area is a piece of land with two unused tennis courts that is about to get a lot more exciting. Greystone Golf and Country Club is building a multi-faceted family recreation area, to be called the Lakeside Activities Center. "This is one of the most exciting projects we've had in a while," said David Porter, CCM, Greystone Club Manager.
Gone will be the existing chain-link fence around the pool area. It will be replaced with a more aesthetically pleasing, metal-spindled fence. Beyond that fence, Greystone will have its own, dedicated facility for Members to play pickleball, the growing sport that combines elements of badminton, tennis, and ping-pong. "There's a huge demand for pickleball," Porter said, so he's happy to announce that the Lakeside Activity Center will include four pickleball courts, along with a regulation-sized basketball court.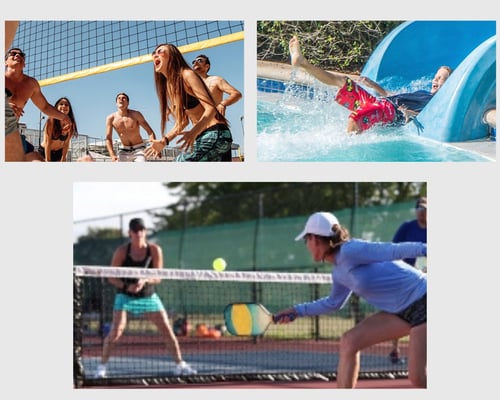 If remote-control cars are your thing, you're in luck. The area will also include a track for remote-control car events. "Remote-control car races are a cool, up-and-coming family activity, even though the cars have been around for a while," Porter said.
For another family activity with a slower vibe, the lake itself will undergo improvements. "We're putting a dock in," Porter said. "We're going to dredge the lake and stock it with fish so Members can fish and have a good time."
There even might be a chance for some miniature golf at the Lakeside Activities Center. "We're talking about covering some space with artificial turf and putting some holes in that can stay capped until they're needed for miniature golf events," Porter said.
Construction on the Lakeside Activities Center is scheduled to begin on November 1, 2021 and should take four to five months to complete.


COURSE AND CLUBHOUSE UPGRADES
Following that project, Porter said even more improvements are coming. In Spring/Summer 2022, the Legacy Golf Course and Legacy Clubhouse will both close temporarily for renovations and improvements. The clubhouse will be expanded and the Legacy Course's greens, tees, and bunkers will be upgraded. While the clubhouse is undergoing renovation, Greystone plans to introduce a food truck. "We're super-excited about that," Porter said. "We can use it by the Lakeside Activities Center. We can do pop-up dinners down there and offer it for weddings and outings."
The inspiration for these ambitious plans is to keep making everyone's experience at Greystone better and better. "We always want to stay innovative," Porter said. "We're always pushing. We want to thrive, not just survive."


CONTINUING TO BUILD COMMUNITY
Innovation in service, providing excellence, and building community have long been Porter's approach to managing Greystone. For example, a few years ago, the Club began tailoring fitness classes to support high school athletes who wanted to excel in sports other than golf or tennis. Athletes who ended up earning college scholarships invited their trainers from Greystone to attend their signing-day ceremonies.
Membership is growing at Greystone, and ideas for making Greystone's community even better are always being considered. In the past few years, the club has embraced delivering fresh pizza within the gates; clubs that combine learning with socializing, including ones for hiking, wine and craft beer; "Pirate Breakfasts" with fun nautical games at the pool; and even opening memberships to young golfers aged 8-17.
"We're always trying to do cool things," Porter said. "We want Greystone to be a place that has the warmth of grandma's house, the most professional caliber of service, and room for magical moments. We want it to be a fun environment where Members feel like they're walking over to their other house, having a good time." This level of intention creates a tight-knit community at Greystone – a place where you can relax alone with a cup of coffee in Founders Café or bring friends or colleagues to a Dinner on the Green.
Porter said he and his staff value making a difference in someone's life. "I love seeing kids light up, I love doing things for people. I'm standing outside right now watching 20 people on the driving range, and they're socializing, giving each other tips and having a good time. That alone makes me happy."