One of the Best Golf Courses in Alabama Reopens with Upgrades
When Members returned to the Legacy on October 1st, they got to tee up their drive on the newly reopened course in front of the beautifully renovated Clubhouse; the first thing they noticed is that the grass was healthier and greener. A large part of that is because the 22-year old tired, Imperial Bentgrass on the greens was replaced with TifEagle Ultradwarf Bermuda, a fine bladed warm season grass specially designed to provide superior playability during the extreme heat of Alabama summers. It's one of the many thoughtful, meticulous changes that Greystone Members can look forward to when they return to play the Legacy Course.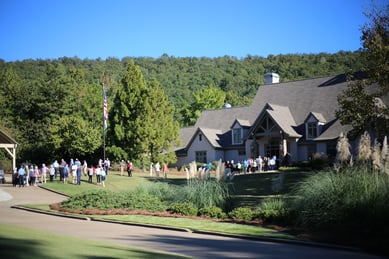 "We opened this golf course in 2000 and it's really stood the test of time," says Rees Jones, whose company originally designed Legacy. Since so many PGA Pros have decided to call Greystone home over the years, thanks in no small part to the exceptional golf, it made sense to bring Rees' company back for some "fine-tuning" work.
The changes will also bring the course up to date and provide a new, exciting challenge for players who are long-familiar with Legacy. For instance, anyone who has hit a drive a bit too far to the right on the majestic, creek-lined ninth hole will appreciate the tree and slope work that was done to give players a better chance of making a recovery shot and saving par on the number one handicap hole on the course. Similar tree and grade work was performed in various other areas around the course to provide improved forgiveness.
An Even Better Playing Experience
After more than two decades of delivering a wonderful playing experience, Legacy will feel both all new and beautifully familiar to Members. The results are thanks to the passion, talent, and long hours put in by the team led by Jason Miller, Director of Course Operations at Greystone.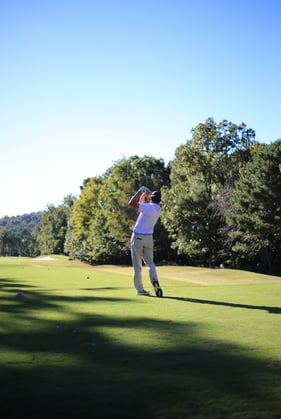 "I'm super excited about all the new surfaces and the improved conditions that we will be able to provide our Membership as a result of these changes," says Jason, who has been at Greystone since before the Legacy was opened in 2000. "Players will also have improved sightlines around the course because of tree work that was performed on several holes to reclaim the perimeters. It's been wonderful to see these enhancements being made to this great golf course."
Members will notice the difference with their very first approach shot into the new greens, as they will be much firmer than in years past. "It's new grass on a pure surface so there's no thatch," says Rees. "When we open we could play the U.S. Open here." The contours remain mostly the same and the greens have been expanded back to their original sizes.
Bunker renovation was another key component of the project, completed by Total Turf Golf Services. The newly renovated bunkers have state-of-the-art drainage systems that will help keep them looking great and playing consistent year round, even after heavy rain events. There were also architectural changes to the bunkers. As Rees states, "We are getting the bunker sizes shrunk down just a bit. Making the shots a little more recoverable. Changing the style of the bunkers to the classic windswept look."
The tees were also renovated this summer. They were re-levelled, re-squared, and re-grassed with TifGrand Bermudagrass. TifGrand offers improved green color and finer leaf blades compared to the original 419 Bermuda that was there previously.
Great care and careful coordination went into ensuring all the new grass was laid promptly after being harvested and delivered from the sod farm. Throughout the coming winter, tee times will be spread out to 15-minute intervals to give the new surfaces a chance to establish and mature. Members will feel firm greens that roll very true. It's an experience everyone from a seasoned pro to a casual player can appreciate.
Legacy Clubhouse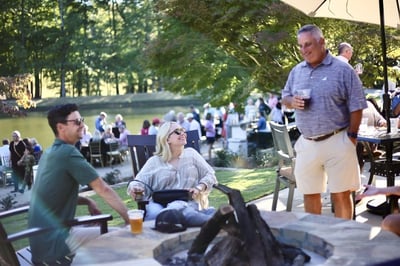 The updates don't end on the course for Legacy. A Grand Opening celebration took place on October 1, 2022, to unveil the beautifully redesigned and expanded Legacy Clubhouse. "This is a very exciting time for Greystone," said Dave Porter, Greystone's General Manager. "Legacy is going to be a place where it's really fun—when it comes to dining, you'll have the opportunity to be outside and inside in both a casual and a fine dining experience. Members can expect something that's very unique and classic to Greystone and an experience they can't find anywhere else."
That includes the brand-new Aqua restaurant inside the Legacy Clubhouse. Members will enjoy some of the freshest seafood in the Birmingham area thanks to a unique partnership.
"We're working with a fishing company in Panama City Florida on a daily basis," says Alan Martin, Executive Chef at Aqua. "They send out boats and radio back what they're catching and we can use that information to plan the menu for the next day."
The goal is to give Members exceptional and unique seafood options day-after-day. Aqua's standing menu will include a raw bar with oysters and hand-rolled sushi as well as hand-cut steaks and more classic favorites. There will be plenty of covered outdoor dining space for Members to take in the stunning views of the waterfalls and mountainside while they dine.
The popular Legacy Grill is back open with rejuvenated indoor-outdoor dining and bar areas and greater access to the expansive new patio. Members will be able to gather around the long outdoor bar or congregate around three large stone fire pits when the weather turns chillier.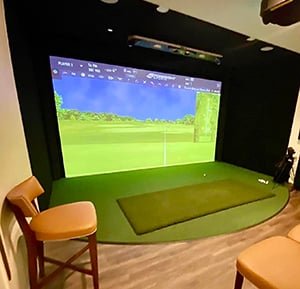 "Have dinner in a warm inviting new space and go sit afterward around the firepit and have a drink and listen to some live music," described Dave Porter, General Manager at Greystone. "This is going to be a really really special place for our Members to dine with their family and friends."
Golfers can even bring their game inside now at the Legacy Clubhouse. There is a lounge with a golf simulator where you can play 200 of the finest courses worldwide—including the Legacy Course. "The simulator room is first-class," says Dave. "You can make a tee time and you'll have a concierge to help you get set up and deliver refreshments." Come see for yourself!