Greystone Golf & Country Club Still Growing Strong After 30 Years
Greystone Golf & Country Club has grown into one of the nation's premier clubs for two reasons. First, for the great golf and, second, because it is a wonderful place for making memories for the entire family.
"You never know where a memory is going to come from and you never know how it's going to stick with you," says Dale Gorham, who has been a Member since 1992 and will be finishing up his 3-year term as Club President at the end of 2021.
Dale's memories stretch all the way back to right after the Founders Course opened in 1991.
"It was just a golf Club back then," says Dale. The clubhouse wasn't much more than two trailers side-by-side. "I was part of a group called The Singles, because you had to have a single digit handicap. Over the years people's handicaps crept up and we started calling ourselves The Digits."
Bob Hope hit the opening drive during the first Bruno's Memorial Classic Golf Tournament held at Greystone in 1992.
That event, later renamed the Regions Charity Classic, began the tradition of exceptional tournaments calling Greystone home. It continues today with the PGA Tour Champions Regions Tradition held each spring.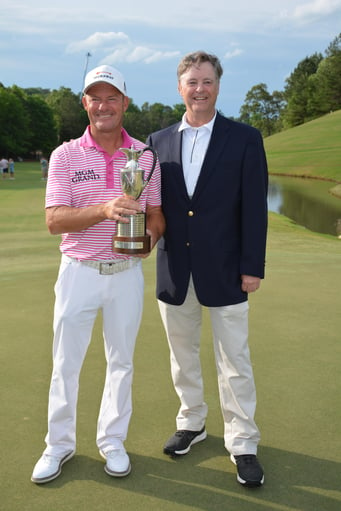 "The Bruno's Memorial Classic was very important to the early success," says Dale. "When we opened we were thought of as being aways outside of Birmingham. There wasn't much built out this way yet. But the tournament got people out here. They got to be inside the neighborhood. And once they walked the course, saw the houses from the back, they said, 'This is really a nice place.'"
Many famous names played in the pro-ams during those early days, including Brett Favre, Bart Starr, Joe Namath, Nick Saban, and Bo Jackson. In the mid-90s, Michael Jordan lived at Greystone and got in rounds of golf while he was playing minor league baseball for the Birmingham Barons — and he remains a member today.
As Birmingham grew out along Highway 280, Greystone grew bigger with the addition of the Legacy Course in 2000. Two months later the Legacy Clubhouse opened and Alabama had its first 36-hole equity club.
The chance for Members to play at two outstanding Championship courses, ranked the highest in Alabama, with legendary PGA instructor Mark Blackburn and a state-of-the-art performance center, continues to be a big draw. It's no surprise 14 PGA Tour Professionals call Greystone home.
Growing Beyond Golf
As more Members with kids joined the Club, Greystone quickly grew into a place where the whole family could basically enjoy an endless staycation. In 2001, the appropriately named Champions Pool opened.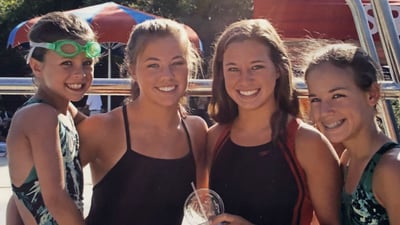 For families like the Wares, who had four daughters swim with the Greystone Gators all the way through high school, countless hours of practice built both character and deep, close friendships.
"It was an activity our family could do together and right here in our own neighborhood," says their mother Paige. Paige will always remember the last medley relay the girls swam together before her oldest oldest headed off to college. "They swam their little hearts out."
The Tennis Facility also opened in 2001 and the Fitness Center in 2004, both part of the transformation of Greystone from a Golf Club to a Country Club. All the upgrades caught people's attention and Golf Weekly named the Legacy Course one of the top 100 residential golf communities in America.
Over the years Greystone has added countless activities that bring Members together — live music, wine and food tastings, international golf trips, dive-in movies, water aerobics, charity events, karaoke nights, cookouts, campouts, sunset cruises – just to name a few. It's no wonder Greystone has gained a reputation throughout Alabama as the "fun Club."
Member Owned, Family Focused
Also in 2009, Greystone became a member-owned club. This ensured Members will always have a say in the direction of the Club. The results certainly speak for themselves. In the years that followed, the Greystone Performance Center opened, more tennis courts were added, and walking paths were installed.
Today, Greystone boasts some of the best dining options of any Club in the country. Cellar 91 offers everything from an oyster bar, to a sundae bar, to pizza delivery, to late night music. Members enjoy the Founders Cafe for casual coffee meet-ups and quick bites. But it was the opening of Amici in 2020 that raised the bar to a whole new level; it doesn't take much imagination for Members to feel like they've been transported from Alabama to a cozy Michelin star restaurant in the hills of Tuscany.
Every meal and everyday can be special at Greystone, but even more so around Christmas. The annual Dickens Dinners brings families together for caroling, carriage rides, and a reading of Twas the Night Before Christmas. With so much holiday cheer, it's no wonder why Santa is now asking a second generation of Greystone kids what they want under the tree.
More and more Greystone families are like the Heinkes, who've been Members for 25 years. Peter Heinke started a tradition of golfing with his sons, Jeff and Robert, after church each Sunday. Jeff will always remember the Mother's Day Sunday when he shot not one but two holes-in-one.
"I assure you, it was luck!" Jeff jokes. "It's so uncommon, so I always use that as my fun fact when I meet new people."
Jeff had his wedding reception at Greystone and now his wife, Abby, and toddler son, Mathew, play by the pool on Sundays when he golfs with his father. "I grew up at Greystone. It will be cool to see Mathew grow up here too. As he gets older, he'll make this place his own. He can meet friends and hang with buddies here just like I used to."
The Next 30 Years
Greystone's future looks bright because it continues to deliver these wonderful memory-making moments for families all year round.
In 2022, Members will get to enjoy upgrades to the Legacy Clubhouse including the expansion of Amici, the addition of a large outdoor bar area, and two indoor golf simulators. The new Lakeside Activity Center next to the pool will open with a basketball court, four pickle ball courts, a beach volleyball court, a fishing pond, an RC race car track, new landscaping, and an outdoor bar by the pool.
With all Greystone has to offer, it's not a surprise that membership is growing fast. "I meet people who've been living in the Birmingham area for 10 years and they come out and finally join," says Dale. "And after the first year, they're like 'Why didn't we do this right away?'"