Swim Like A Greystone Gator: Summer Swim Team Memories for the Ware Family
Any member of the Ware family will tell you that being a Greystone Gator was one of the family's most cherished memories. The four Ware sisters – Sarah, Rachael, Frannie, and Callie – each started swimming at Greystone as children and continued all the way through high school.
"I wanted my girls to be strong swimmers," explains their mother, Paige, a longtime member at Greystone Golf and Country Club. A bonus to being a Gator was getting all the instruction needed from the Greystone coaching staff. "The girls never had to take traditional swimming lessons because they learned on the swim team! They swam almost every day, and they became very well qualified swimmers."
The girls became such strong swimmers, they were able to turn their swimming skills into summer employment in their teen years. "They each got their Red Cross certification and worked summer jobs as lifeguards," Paige explains.
Setting a Summer Rhythm
The swim team provided a welcome cadence and structure in the Ware household through the summer months. "We used the swim team as a way to schedule our summer," Paige says. "We'd set a goal of making it to four practices a week. It got the girls up and out of bed, and then we'd walk over to the morning practice together – or by stroller, big wheels, or bikes," she remembers with a laugh.
After a morning practice, the family would swing by for a post-swim Icee at the Club before meeting up with friends. Paige says the kids "made lots of friends on the swim team and there's so much to do at the Club."
Different Strokes For Different Folks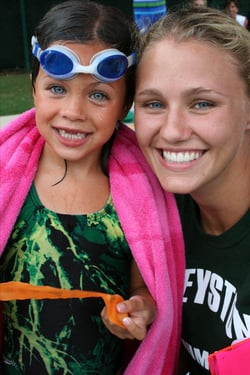 While the Ware sisters made friends and pursued their new passion at the pool, Greystone aquatics isn't just for the kids. Parents are encouraged to get involved however they can, whether as volunteers or cheerleaders on the sidelines. "It was an activity our family could do together and right here in our own neighborhood," Paige says.
Paige and her husband, Mark, often had just as much fun as their girls working as volunteers at swim meets over the years. "I love volunteering, and there's lots of ways to be involved. You could be a timer, work on the blocks, or be on the loudspeaker. I was a teacher, so my favorite task was being the 'Clerk Of Course.' I'd have a clipboard and line up the kids in their lanes. The little ones would be so nervous but excited. It was always so fun."
Of course, summers are a busy time, so another advantage was the flexibility of being involved. "You can be as involved as you want, but it's okay if you can't make it all the time," Paige says. "We could still go on a summer trip or vacation Bible school. They're very accommodating."
Sisters Swimming Together ONE LAST TIME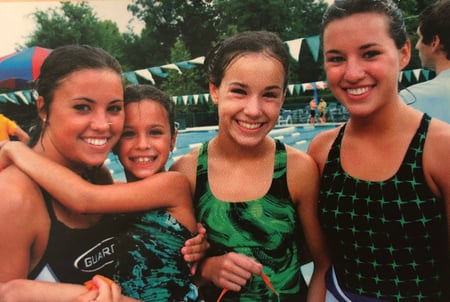 The Ware family's crowning moment was a final swim meet before Sarah left for college at the University of Mississippi. "The Greystone coaches arranged to have the girls swim a medley relay together," Paige remembers, "It was a complete surprise to Mark and me – we didn't know they were doing that!"
"It was a really special thing," Paige says when she remembers the girls lined up before the event. "They announced their names on the loudspeaker: 'We have all the Ware sisters here!'"
Each sister showcased their own favorite stroke during the cathartic final meet – butterfly, backstroke, and more – as their family and friends cheered them on. That day, Paige remembers, her daughters pulled out all the stops for one last swim together. "They swam their little hearts out."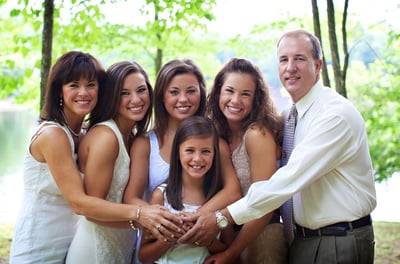 As the Ware family moved into new chapters of their lives, Paige is looking forward to making new memories at the Greystone pool with their first grandson. Paige says. "We're really looking forward to going to the pool with him."
When she thinks back on it, Paige says it was really the people, more than the professional equipment or instruction, who made the Greystone Gator's swim team experience so special. "It's more than swimming," Paige says. "It was about learning leadership skills, making friends, and being motivated by their coaches. It was a great fit for our family."
Opening this Memorial Day Weekend!
Greystone Golf and Country Club is pleased to announce that the Aquatics Center will be reopening this Memorial Day weekend. Our Grand Opening Festival is May 27th from 3- 8pm and the Memorial Day Cookout is May 30th from 1-5pm. Interested in being a Greystone Gator? The Greystone Gator Swim Team registration deadline and first practice is June 1st! Contact Coach Angie Trantham to register. Please note this is restricted to Members-only but there's still time to become a member - learn more by viewing our membership guide below. Let the summer fun begin!