Blackburn Golf Academy – Home to 14 PGA Tour Professionals
When you listen to Mark Blackburn talk about the golf swing and the art and philosophy of golf instruction, there are a few things that become immediately apparent.
The first is that he has an uncommon depth of knowledge about the mechanics of the swing and how all the component parts of the swing interact. And, as all great teachers do, he has a unique ability to explain those sometimes complex concepts in ways that his students can easily understand and implement.
But you also realize that this is someone who has studied and thought deeply about the "science" of the golf swing. Leveraging the latest concepts about the fundamentals of the golf swing and using various high-tech tools to help deliver those messages to his students, has become the hallmark of the Blackburn Golf Academy methodology.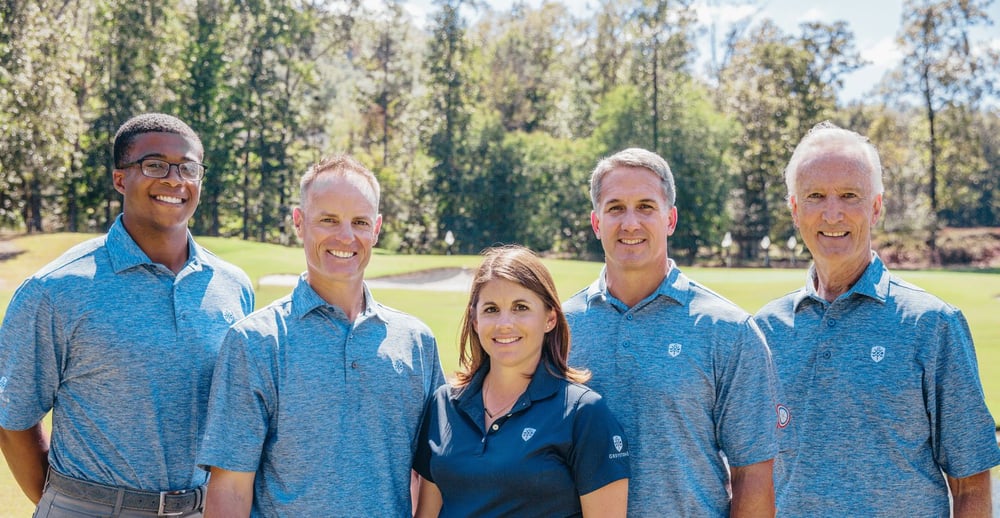 The Blackburn Golf Academy – How it Began
In the late-90's, following a successful college golf career at the University of Southern Mississippi, he had a realization that his true calling in golf was not in playing the game for a living, but rather it was in helping others to maximize their potential in the game. And so, a new journey began.
That ultimately led, a few years later, to his founding of Blackburn Golf, which eventually took up residence at Greystone's Legacy Golf Course in 2015.
National Recognition
With Mark's hunger for continual learning and passion to pass on his vast knowledge, people in the region and, ultimately, around the country, began to take note of his unique talents and dedication. Along the way, he garnered a host of prestigious accolades. In addition to several local, state, and regional awards, he's received the following recognition:
Named by Golf Digest as the #1 Teacher in Alabama
Named by Golf Magazine as one of its Top 100 Teachers in the U.S.
Named by Golf Digest as one of the Top 50 Best Teachers in America
But the most noteworthy recognition he's received thus far was bestowed just last year when he was honored by the PGA of America for his "outstanding services as a golf teacher, innovator and coach." By naming Mark as its 2020 Teacher and Coach of the Year, the PGA singled him out from among hundreds of other candidates nationwide for this prestigious distinction.
In commenting on the award, Mark said "It's a huge honor. The national teacher and coach of the year award is given to one person annually. It's a career achievement award for me. I'm excited to represent Greystone and the Alabama-NW Florida Section."
More Than a Dozen Tour Pros Have Sought Coaching from Mark
PGA Tour Pros are very particular in their selection of a golf coach to help them improve their game and fine-tune their swings. For a PGA Tour Player, finding the right swing coach can make the difference between slamming trunks on Friday or playing on the weekends. So, a coach's reputation and player roster is important. They know a good coach when they see one. It's a testament to Mark, and his team at the Blackburn Academy, that more than a dozen PGA pros have sought out his coaching services.
Over the years, well-known players like Max Homa, Chez Reavie, Heath Slocum, Harris English, Kevin Chappell, Charlie Hoffman, and many others, have all entrusted their golf swings and professional careers to his stewardship.
The Blackburn Golf "Process"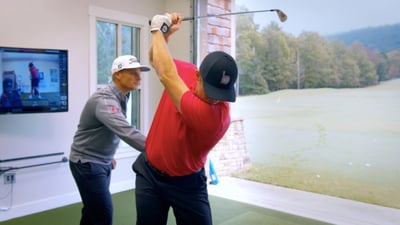 Years of deep analysis of the golf swing, along with a study of teaching theories and coaching philosophies ultimately culminated in what Mark calls the "codification" of
his system. These are the processes that guide the Blackburn Golf Academy coaches in their instruction methods and give each of them a blueprint to follow as they work with golfers of varying skill levels.
But, while utilizing an effective system to guide their teaching approach is important, the instructors take great pains to ensure that this approach is customized for each individual golfer. They understand that they are teaching people, and not a system and therefore tailor their instruction based on the unique needs, athletic abilities, movement patterns, and goals of each student.
As Mark has stated, "Everyone is predisposed to certain movement patterns. So, you can either accommodate them or fight them. If you can manage the movements that they already have, as opposed to trying to change them, they'll tend to have more favorable outcomes more often. And that's what it's all about."
State-of-the-art Facility
Situated on the grounds of the Legacy Golf Course, Greystone's Golf Performance Center is home to the Blackburn Golf Academy. This state-of-the-art facility provides golfers with the ultimate learning experience. It consists of both indoor and outdoor facilities, enabling them to provide instruction regardless of the weather conditions.
The Academy is equipped with an array of cutting-edge technology that maximizes each instructor's ability to translate swing concepts that may be hard for some students to envision into practical, executable movements.
Some of the technology that Mark and his team at the Academy utilize includes:
High-speed, high definition, 3D motion-capture cameras and live-streaming video.
V1 Sports weight-sensing force and pressure plates that are used to measure pressure, velocity, and dynamic force throughout the golf swing. The output is then linked to computers to enable immediate data and video feedback to the student.
Sophisticated launch monitors that capture and analyze dozens of data points on each swing (such as club head speed, face angle, carry distance, ball speed, launch angle, etc.), showing you in detail what both your club and the ball are doing.
Cloud-based data storage that relays information on thousands of swings.
The availability of a leading-edge smartphone app (called the Blackburn Golf Academy App) that keeps students in touch with Mark and his staff. It also provides them with a library of on-demand drills, a repository for your swing videos (the "Swing Locker"), and a capability to access one-on-one feedback and prescriptive drills based on videos that you send in.
Although the skills and experience of the instructors will always be most important, this technology helps them to be more accurate in their swing diagnosis and more effective in communicating their messages to the students.
Final Thoughts
In addition to being one of the premier places to play golf in Alabama, Greystone Golf & Country Club also offers the finest golf instruction in the state. The Blackburn Golf Academy, run by one of the most highly regarded and decorated golf coaches in the country, adds a certain cachet to Greystone that differentiates it from other clubs in the area. Learn more about becoming a Member.
Mark and his staff at the Blackburn Golf Academy work with golfers at all levels, young and old, from high handicappers to golfers who may have ambitions to play competitive golf.
Whether you're a member at Greystone already, or even if you're a non-member, you should take advantage of the unique opportunity to sharpen your skills by scheduling an appointment with Mark or with one of the coaches on his staff. To schedule a Club fitting or golf instruction - reach out to Brian Speakman today.