Beloved Member Golf Tournaments at Greystone
If you are passionate about golf, May 10-14 is likely booked on your calendar.
The Regions Tradition is one of five major championships on the PGA Tour Champions which Greystone Golf & Country Club is proud to host every spring.
Attending a Champions Tour event is not the only way to entice Members and their guests to experience the rolling fairways and slick greens of Greystone. In fact, many gather at the Club to partake in the beloved tournaments. Greystone annually hosts unique and special occasions to experience the very best of Birmingham's crown jewel of golf. Here are just a few of the major tournaments in the annual lineup.
Greystone Member-Guest
"The Member-Guest is definitely the flagship event of the year," says Stephen Breaseale, a Greystone Member since 2015. "We have guests flying from all over the country to play."
A drawing party in February determines the field for the 128-team, two-person tournament which is held in late April on both the Founders and Legacy courses at Greystone.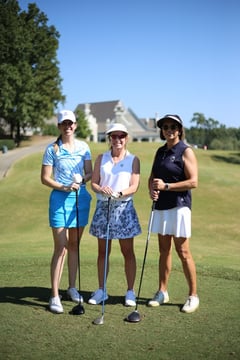 "Two years ago, the event filled up in 67 seconds for online registration," Breaseale said. "So we've had to find ways to try to accommodate more people. That just goes to show how special this event is!"
Each participating Member invites one guest to comprise their team. Two-person teams are placed in flights and compete in round-robin matches.
Teams play seven matches from Thursday through Saturday. On the final day, winners of each flight advance to a four-hole shootout to determine the overall champion.
"It's a lot of golf. It really is," says Hunter Harper, a Greystone Member since 2019. "You play 27 holes the first two days and then 18 on the third day, not to mention the practice rounds prior. It sure is a lot of fun."
Before, during, and after each round, the unmatched hospitality of the Greystone staff ensures every Member and guest enjoys an exceptional golfing and dining experience.
"The food and beverages served are top-notch," says Breaseale. "The level of attention to detail and the quality of presentation of food, beverages, and tee gifts is outstanding.
"They do a good job of making it special," concludes Breaseale.
Pigskin Classic
In a perfect marriage of Alabama's two great passions—golf and football—the Pigskin Classic, kicks off on the last Friday in October.
This fall tradition provides an opportunity for Members to invite up to three guests to don their favorite team colors and enjoy a spirited round of golf under the most colorful of autumn backdrops.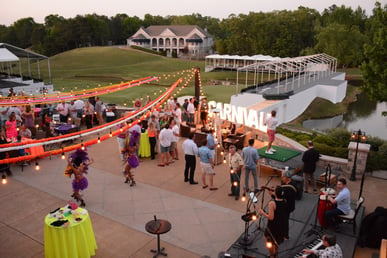 "We're all obsessed with football down here," says Breaseale. "It's one of the most pure, fun days of the year. I have two buddies that I invite every year who always ask me months in advance, 'When is the Pigskin Classic?'"
Hospitality tents on the plaza near the Founders course feature the finest tailgate treats and craft beer offerings on this side of Tuscaloosa. Players enjoy chili dogs, wings, BBQ, sides, and desserts before heading out on the course where golf and gridiron skills are put into play.
"It's a handicap tournament with contests and side games throughout the round," says Harper. "There's a putting contest on the putting green, then you have to either kick a football or hit a tennis ball through goal posts. It's a lot of fun!"
After the round, Members and guests gather for more food, beverages, and the final tally to see who won.
Like with the Member-Guest, the Pigskin Classic fills up quickly! There often is a waiting list for this high-demand event.
The Grey Cup
Nothing inspires more camaraderie and competition among Greystone Members than the Grey Cup, held annually in mid-October.
"The Grey Cup is awesome," says Harper. "It's in the fall of every year and you qualify by playing in the Member tournaments."
Featuring two teams of 36 players, selection for the Grey Cup is based on points acquired over the golf season. The tournament matches Team Founders trading shots with Team Legacy in a Ryder Cup-style competition.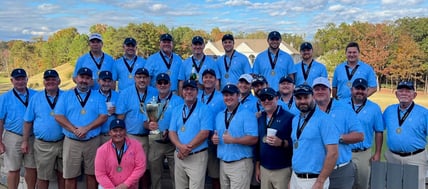 A mess hall-style steak dinner party on Friday evening kicks off the weekend with Members of each team dressed smartly in team shirts and blazers.
An 18-hole, alternating-shot, match-play round–with pairs from each team competing in both four-ball and foursomes on Saturday–leads to highly-contested singles matches on Sunday.
"Most guys haven't been on a team since high school," says Breaseale. "So that adds a different dynamic to this event–there's a lot of camaraderie."
Champagne is popped for the winners; while tradition dictates Members of the losing team adorn shining medals on their victorious opponents. Pictured are our 2022 winners!
Exceptional Community; Remarkable Hospitality
Greystone's Member tournaments offer something for every Member and guest. Competition, fun, and fellowship all converge to create an exceptional experience for each and every player, all provided by Greystone's remarkable staff.
"As far as the tournaments go, the staff is what makes Greystone so special," says Harper. "Every single person that's on the golf staff goes above and beyond to make sure you have a good experience during any tournament."