Legacy Course and PGA Instruction Help Players Improve Short Game
Here are a couple of interesting facts that you may not be aware of:
60-65% of the shots you take in a round of golf occur within 100 yards of the hole

Nearly 80% of the shots that you lose to par occur within that same 100-yard range!
For players who shoot an average score of 90, the various short game shots account for about 55-60 of them. For players who struggle to break 100, they are hitting pitch shots, chip shots, bunker shots, and putts on 60-65 of their total strokes. There's no other shot type in the game that even comes close to this level. By comparison, a player will hit a maximum of just 14 drives in a round.
What's the takeaway from this? Since the overwhelming majority of the shots you'll take in your round occur within wedge distance of the green, it would be wise to devote a greater percentage of your practice time to improving at these types of "scoring shots."
Unfortunately, though, despite the disproportionately beneficial effect that a better short game can have on their scores, mid- to-high-handicap golfers rarely put in the time that is needed to improve in this vital part of the game, preferring instead to dedicate almost all their practice time to hitting buckets of driver shots on the range. If your goal is to improve your game and lower your scores, you should consider a change to your practice strategy.
Mark Broadie, who in 2014 wrote the ground-breaking book entitled Every Shot Counts: Using the Revolutionary Strokes Gained Approach to Improve Your Golf Performance and Strategy, commented on this dichotomy when he said, "If you've got two hours to practice, you probably won't start hitting the ball longer or straighter in that time period. But you could probably get better at your putting and chipping in two hours of practice."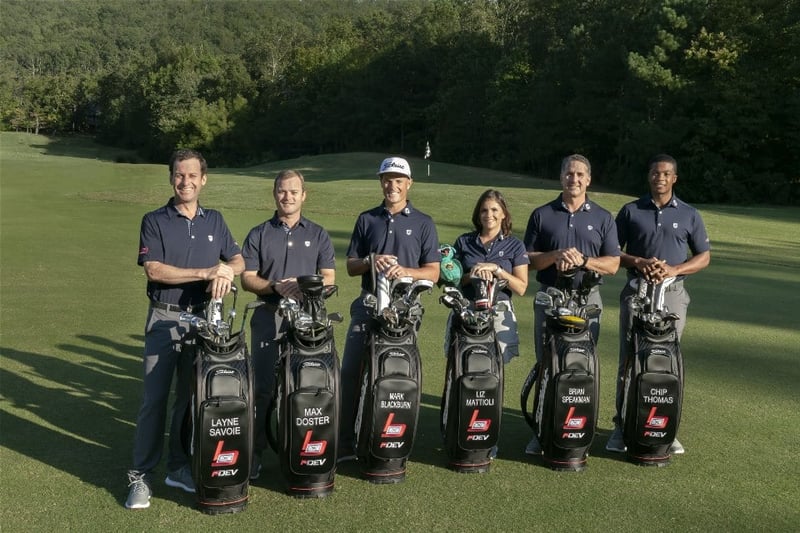 Greystone Has a World-Class Short Game Practice Area for Members
If you accept this premise that you can get a much better return on your time investment by focusing more on this part of your game, you should plan to start making regular visits to Greystone's outstanding short game practice area located next to the Legacy Clubhouse.
This practice area has been designed to provide you with the ultimate short game practice experience by offering you a wide array of short game scenarios. It's the perfect complement to the adjacent Blackburn Academy and, by mimicking the green surfaces and rough conditions that you'll find on both the Founders and Legacy Courses, you'll have the opportunity to practice all the short game shots that you'll face when you play.
The practice facility consists of a large putting green—almost 8,000 square feet in size—along with a dedicated area from which you can hit pitch shots of up to about 50 yards and greenside chips from all types of lies, as well as authentic course-like bunkers that will allow you to fine-tune your sand game.
With its proximity to the Blackburn Academy, you'll also have access to all their superb teaching professionals who offer both individual short game lessons as well as group short game clinics.
Blackburn instructors Layne Savoie, Brian Speakman, and Liz Mattioli in particular spend a lot of their time on instruction in the short game, and they'd be delighted to help you to understand and master the proper technique on all these shots so that your short game becomes a scoring weapon for you rather than a source of wasted strokes.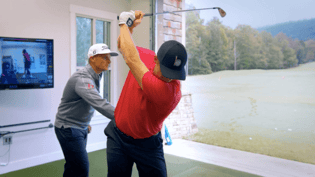 As teaching pro Liz Mattioli said, "Our short game practice area is a great place to spend your practice time. If someone wants to make a big impact on their score, a quality short game practice routine is undoubtedly going to move the needle in the right direction."
And for those who really want to elevate their short game, these instructors will also be able to guide you through a personalized wedge fitting session that will help you to dial in your wedges with the perfect lofts, lies, degrees of bounce, and sole grinds that will be customized to your unique swing profile.
Emulate How Better Players Practice
There is a company called SwingByte that markets a popular lightweight swing analysis tool that you attach to the shaft of your golf club. This device is currently being used by thousands of golfers around the world who use it during their practice sessions. SwingByte then gathers and analyzes the data that is accumulated during those sessions. Recently, they performed an interesting study that tells a fascinating story.
Using their database of customer swings, which consisted of over 3 ½ million shots, they were able to determine exactly how amateur golfers spend their practice time. They then took the results and broke them down by handicap level.
Would you be surprised to learn that low-handicap golfers spend upwards of 30% - 35% of their practice time on their short games, while higher-handicappers devote an average of just 15% of theirs? As you can see in the graph below, there's clearly an inverse relationship between handicap level and time spent practicing the short game.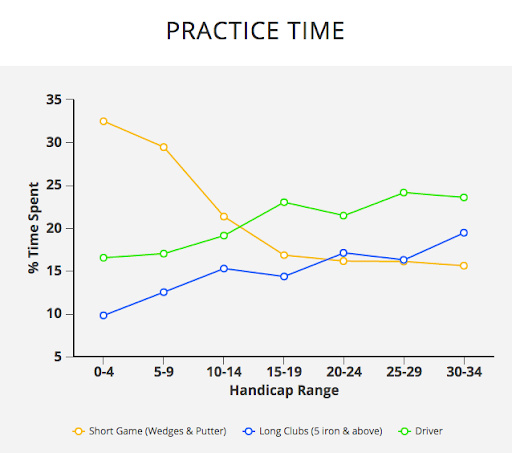 Source: SwingByte
This tells us a couple of things. First, it confirms that better players appreciate the importance of mastering these types of shots. They understand how crucial short game skill is to save strokes and lower scores.
The second thing it reveals is that higher handicap golfers are probably unaware of the impact that short game practice can have on their scores and that it takes dedicated practice time to reap the benefits.
This should be a lesson for all mid- to high-handicappers.
As a Member of Greystone, you have a unique opportunity to flip this script by leveraging your Club's outstanding short game practice facilities. By spending a little more of your practice time with your wedge, and perhaps a little less with your driver, you'll almost immediately start to see your scores go down.
And keep in mind that anyone can become adept at executing all the short game shots. Size and power provide no advantage here. With some knowledge of the proper techniques and a reasonable amount of regular practice, everyone can excel in this part of the game
So do what the better players do. Take advantage of the first-rate Greystone short game practice facility and take your golf game to the next level