How Custom Golf Club Fitting Helps Your Game
A study found about 90% of golfers in the U.S. may be playing with clubs that don't fit them properly! The same study found people who were then fitted for clubs saw significant improvement.
80% of custom-fit golfers hit the ball more accurately and consistently based off of launch monitor tracking data.

Golfers who were custom-fit were 22% more likely to see an improvement in their scores of 2 strokes or more per round, and 56% more likely to see an improvement of more than 5 strokes per round.
As Jon Last, President of Sports and Leisure Research Group (which performed the study) said, "This study is a wakeup call for every golfer who wants to get better. We spoke to thousands of golfers coast to coast and the majority had no idea what true custom fitting is all about and how it can shave strokes off their scorecards."
Why Custom Fitting Helps
You can think of it this way: golfers are as varied and unique as fingerprints, with significant differences in terms of their size, their strength, their athletic ability, and their swing characteristics. How could such a large and diverse group of people all play to the best of their abilities by using standard golf clubs that were purchased "off the shelf?"
You wouldn't walk into a clothing store and buy the first suit that appealed to you, regardless of its size. And buying golf clubs that way is not a wise strategy either.
Properly fitted clubs can enable a biomechanically sound motion, which will lead to a balanced, efficient, and powerful swing. Custom-fitted clubs are designed to accentuate your strengths and compensate for your weaknesses.
Poorly fit clubs, on the other hand, can reinforce swing flaws and can lead to bad habits. And even for golfers who have good golf swings, ill-fitted clubs can undermine their natural talent.
Getting custom-fitted clubs isn't going to propel you to the PGA Tour. But you will get better. You'll likely see more consistent ball striking, a more effective launch angle, better accuracy on your shots, and increased distance.
Can Beginners and High-Handicappers Benefit from Club Fitting?
Many higher-handicap golfers assume that custom fitting can only be of value to highly skilled players and that they should wait until they get better before they invest in a custom-fitting. In fact, that perception is entirely inaccurate.
While custom fitting can help golfers of all abilities, it can have an even greater impact on golfers who carry higher handicaps. Clearly, a fitting won't drop 4-5 strokes off a scratch player's score, but a fitting could very well drop that many strokes (and possibly, even more) off the scores of golfers who shoot in the 80's, 90's, or higher.
For beginners just starting out in golf, trying to learn the game while using ill-fitted clubs could be a significant impediment to improving. For them, using clubs that are too heavy, too long, or too stiff, can foster bad habits as they make compensations to adapt to the poorly fitted clubs. And, regrettably, those habits can become ingrained in their swings for years to come.
Beginners are, in fact, ideal candidates for a club fitting session. Learning the swing with clubs that are customized to their build, their strength, and their club head speed, will lay the groundwork for systematic improvement, resulting in many years of enjoyment in the game.
Custom Fitting at the Golf Performance Center
Greystone Members are fortunate to have access to high-quality club fitting services right on the Club's premises. You're likely already aware that the Blackburn Golf Academy at the Golf Performance Center provides world-class swing instruction. But you may not have been aware that they also provide professional custom fitting services as well.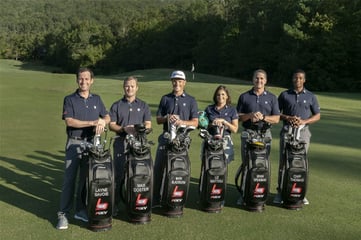 Greystone's PGA Instructors are all trained club fitters who have the knowledge, experience, and resources to expertly evaluate and analyze the swings of golfers of all skill levels, and to translate that analysis into a customized prescription for golf clubs that will make the game a little easier for them and a lot more fun.
Blackburn Lead Instructor Brian Speakman summarized it this way: "Every golfer has issues that are unique to them. One may have a slice, another may have a hook. One may hit the ball too low, another may hit it too high. We're here to help you, not just by improving your swing mechanics, but by fitting you with clubs that are going to alleviate those issues."
The Golf Performance Center employs state-of-the-art facilities for both instruction and for custom fitting services:
An ultra-modern indoor-to-outdoor hitting facility.

Highly advanced, doppler radar-based TrackMan launch monitors that provide comprehensive swing data to assist in determining custom specifications for the golfer's ideal set.

A full grass driving range.

A complete short game area for use when doing custom fitting for wedges.

A sophisticated, computer-based putting analysis system (called the SAM PuttLab), for use when providing putting instruction, as well as for doing custom fitting for putters.
The Fitting Process
Typically, the fitting process will begin with an analysis of the golfer's swing using their current set of clubs. The fitter will observe the golfer hitting many shots and will leverage the use of the TrackMan launch monitor to quantify specific characteristics of their club delivery and ball flight.
They will learn important data such as the golfer's correct length and lie specifications, the appropriate flex of the shaft, the golfers club head speed, ball speed, launch angle, etc. Both the indoor studios, as well as the outdoor grass range, will be used during this part of the process.
Armed with this knowledge, the fitter will then use the Center's extensive inventory of heads and shafts, contained in fitting carts from a wide variety of equipment manufacturers, to pair together the ideal combination that produces optimal results for the golfer.
A thorough club fitting is a comprehensive and meticulous process because it's vital that every factor be assessed. Club weight, club length, swing weight, shaft flex, face angle, spin bias, head design, etc.—all are analyzed and then input into the blueprint that becomes your personal, customized club specifications.
Final Thoughts
Golf is a difficult enough game by itself without making it even harder by using clubs that are a poor match for your swing.
It's undeniable that using golf clubs that have been personalized to your body type and swing will reduce both the frequency of your mistakes as well as the severity of those mistakes. Yes, you'll still hit bad shots from time to time, but you'll hit fewer of them, and they won't be quite as punishing when they occur. And you will shoot lower scores.
If you think it may be time to elevate your game by getting clubs that are tailor-made for you, contact Brian Speakman at the Blackburn Performance Center to schedule a club fitting appointment.