Greystone Ladies Golf Association Continues to Thrive
Happy anniversary to the Greystone Ladies Golf Association (GLGA)!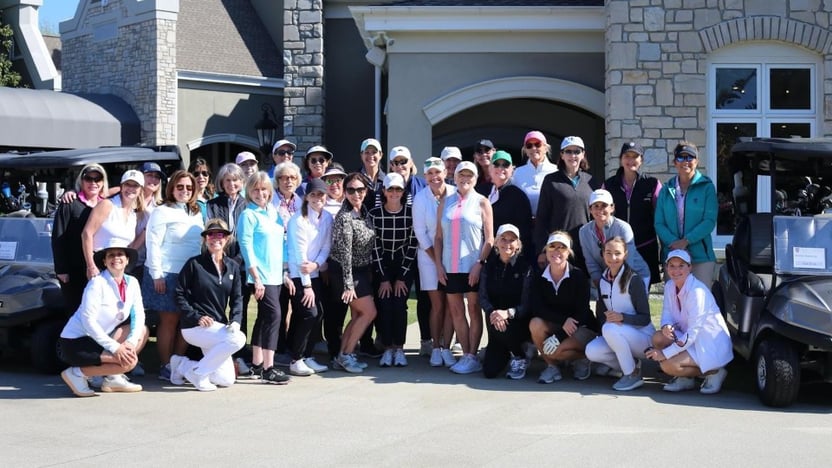 It was 30 years ago—when Greystone Golf & Country Club was just two years old—when a dozen founding Members, led by still-active Members Helen Walker and Jenna Cassese (pictured: Jenna, left & Helen, right), formed the GLGA. They probably couldn't have anticipated then just how much their new group would grow over the next several decades.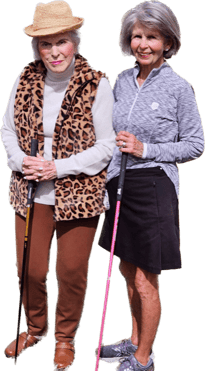 In those early days, their relatively small group was motivated mainly by a desire to have friends with whom they could play golf, but they were also motivated by the more aspirational goal of advancing women's golf at Greystone. And judging by the remarkable growth of the GLGA in the intervening years, it's clear that they have definitely been successful in raising the profile of women golfers at the Club.
Helen was asked recently about what had inspired her to launch this group at Greystone: "We started the GLGA to promote and build the game of golf for the women in the Club and to enable its Members to participate in state and local golf competitions. And, of course, to build lasting friendships through the game of golf."
From their initial group of 12, the GLGA now boasts more than 100 Members, organizes numerous tournaments and social events each year, runs regularly scheduled instructional clinics for its Members, and notably even donates money to several wonderful women's charities in the state of Alabama.
GLGA Growth Mirrors the Growth of Women in the Game
In a way, the evolution of the GLGA at Greystone shouldn't really come as a surprise. The growth they've experienced in the Club over the past 30 years in fact parallels the overall growth of women's participation in golf as a whole nationwide.
For those who are not avid golfers, there's a remarkable reconfiguration underway in the makeup of the nation's golfing population. According to the National Golf Foundation (NGF), female golfers now account for 25% of the total—one out of every four golfers. To put that in perspective, 10 years ago women comprised just 19% of golfers.
From 2019 through 2020, the incremental growth of female participants in golf outpaced the incremental growth of male participants by a factor of 5 to 1 (451,000 new female participants to just 83,000 new male participants)!
It's not an exaggeration to say that female golfers are now powering the overall growth in the game of golf.
We Can Look for This Trend to Continue
When looking at all the data, it's clear that this is a trend that will continue into the future. Current data about junior golfers (golfers who are 6–17 years old), who obviously represent the future of the game, provide a clue as to how the male/female participation breakdown is likely to continue to transform:
In 2000, girls represented just 15% of all junior golfers. As of 2021, girls represented 37% of junior golfers.
Over the past decade, the growth of girls' golf in the United States has far outpaced that of boys' golf. Girls under the age of 18 now represent the single fastest-growing sector in the U.S. golfing population.
If these trends continue, and all signs are pointing to the fact that they will, the face of golf will look quite a bit different in the future than it has in the past.
Events Sponsored by the GLGA
The GLGA organizes and runs many golf and social events throughout the year. And one of the reasons that Members seem to enjoy these events so much is because they incorporate the perfect balance between golf and sociability. For some Members, the golf itself is the main focus. But for many Members, the camaraderie and the opportunity to spend time with friends is the primary motivation.
Here are some of the more popular events put on by the GLGA during the year:
3 Jacks and a Jill Tournament—a very popular annual event that teams together three male golfers with a female golfer.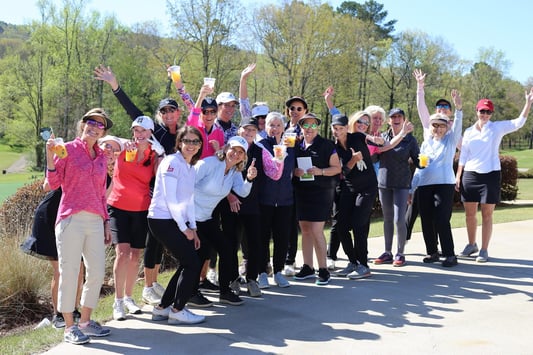 Mixed Member-Member Event—a fun tournament that pairs 2-person teams through a blind draw process.
The GLGA Invitational—one of the GLGA's premier events of the year, this event has steadily grown in popularity over the years. This year's tournament will have 100 women participating, and there is even a waiting list of Members still hoping to get in!
Couples Tournaments—these fun events pair two Members on a couples team. There are several of these events scheduled throughout the year.
Wine and Nine—this event has become so popular that it is now scheduled each month from April through September. This is one that Members learn to sign up early for—they usually cap the admission at 20 women. The event usually kicks off with an instructional clinic run by teaching professional Liz Mattioli, followed by nine holes of no-pressure golf. And the day concludes with a fun get-together, where it has been rumored that an adult beverage or two may find its way into the proceedings.
Instructor Liz Mattioli: GLGA Supporter and Proponent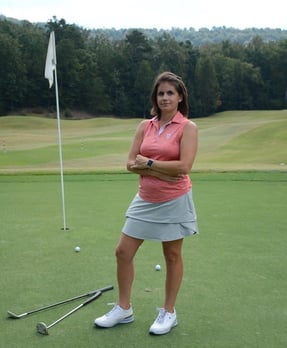 The women of the GLGA are fortunate to have a friend and advocate in Blackburn Golf Academy Lead Instructor Liz Mattioli. Liz got involved with the GLGA initially back in 2007, and she's been a regular presence among the group ever since.
In fact, Liz plays an important role in many of the group's functions. She helps to coordinate the regular Tuesday/Thursday Ladies Group, she provides a ladies' clinic series in both the spring and fall, and she's a regular part of the popular Wine and Nine events that take place each month.
And while the GLGA would not be what it is today without her participation and collaboration, the feeling is clearly mutual. As Liz said, "It's been an honor for me to be a part of growing the game among the women at Greystone. I've enjoyed creating programming specifically for women. I've met some really amazing ladies and it's such a joy to see them find enjoyment in golf and form relationships with one another."
Local Charities Benefit From GLGA Donations
The GLGA is not just about providing opportunities for Members to play golf together and socialize. Philanthropy and giving are important components of the Club, and the GLGA is no exception. Portions of the proceeds from their events go toward making several annual charitable contributions.
These donations are aimed at making a positive difference in the lives of girls and women in the state of Alabama. Here are the three very deserving local women's charities that are the beneficiaries of these donations:
This foundation provides scholarships to deserving young women who are pursuing degrees at colleges and universities in Alabama. They also offer grants to high schools and middle schools to help them start golf programs.
This foundation raises funds to aid ovarian cancer research, to increase awareness about the risks and symptoms of this disease, and to provide assistance to those undergoing treatment.
This foundation fundraises for local research to fight against breast cancer and to recruit world-class breast cancer researchers.
Birmingham Women Golfers, this Could be the Place for You
NGF studies have shown that there are two main reasons why some women turn away from golf. The first is because they never truly get comfortable around the golf course or around other golfers. The second reason is because they don't feel that they play well enough to enjoy the game.
For women golfers in Birmingham who may feel this way, you should know that the GLGA is committed to making it easy and fun for you to get involved. The women of the GLGA are all extremely friendly, and they try to create a casual, relaxed, and non-judgmental atmosphere that will hopefully alleviate all of those concerns.
In fact, former GLGA President Cindy Burell experienced those very same feelings of anxiety herself before she joined the group. As she puts it, "I was really nervous about joining the GLGA because I had not played golf in years, but I found the nicest group of ladies who were so welcoming. I'm so thankful for all the friends I've made through ladies' golf at Greystone."
If you'd like to play more golf at the Club but without the anxiety that can often accompany it, and if you'd like to make a lot of new friends in the process, you should reach out to any current member of the GLGA to inquire about joining.
Golf is simply more fun when you can enjoy it with a group of close friends. And that's what the GLGA is all about.