How Great Instruction Makes it Easy for Women to Learn Golf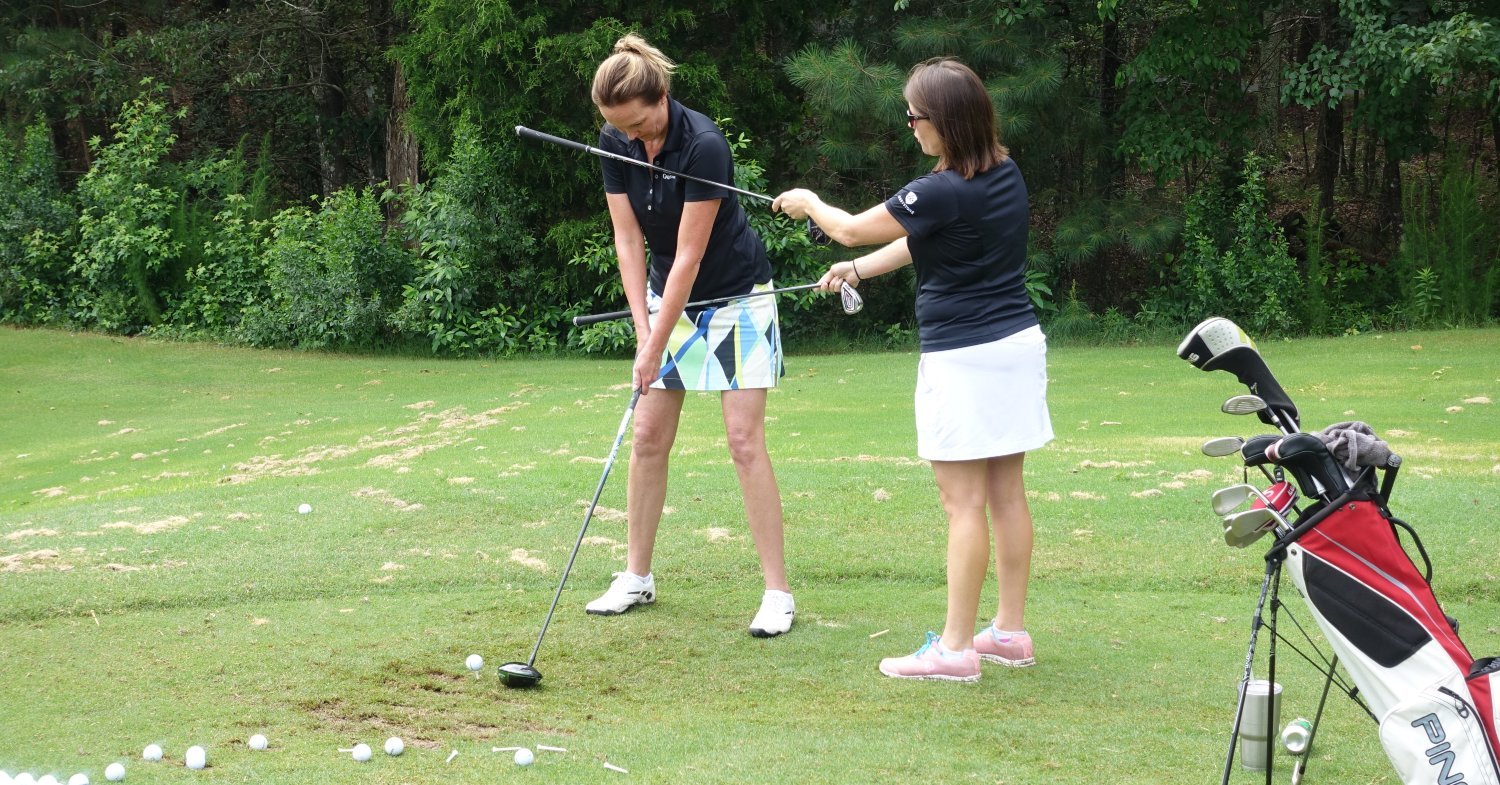 Picking up a new sport in your adult years is intimidating enough, and for many, golf also introduces a unique set of barriers. For women just taking up golf, the obstacles can feel even greater – so it's important to relax and understand that all golfers experience a learning curve.
Liz Mattioli, an LPGA Class A Member and Lead Instructor at Greystone, says 60 percent of the golfers she teaches are female. She says beginners are simultaneously discovering the rules of a new game while learning multiple new skills, all of which takes time, patience, and adaptability.
"Women can be intimidated by a male-dominated sport," Mattioli says. "A lot of times the information is presented as if there's only one way to play golf, but I think a simplified approach is a little bit better – an approach that is unique to each person's learning style and body type. It's not one-size-fits-all."
Easing into the Game
Mattioli says that making the beginner comfortable and then building up their confidence is key to helping them enjoy the game. A common practice in golf instruction is to develop fundamentals on the practice tee, since heading to the first hole right out of the gate is a little aggressive – but Mattioli suggests taking the newcomer onto the golf course to start with. Lessons on the course with a trained professional can help them understand how to set up for different shots.
Additionally, Mattioli says she throws away the scorecard to help new golfers understand that their success or failure aren't determined by a score. Instead, she suggests keeping track of how many times you make good contact with the ball as an indicator of progress.
Confidence is Key
Because golf, like any sport, takes time to ease into, Mattioli says those new to the game need added motivation to keep going. "I try to build their confidence with how they evaluate themselves after their shot," Mattioli says. "I encourage them to find something positive, even if it's just the ball moving forward. Positive emotion and positive experiences help breed confidence; beating yourself up or having unrealistic expectations can impede it."
Going Live Before Hitting the Course for Real
Though it can be intimidating, Mattioli believes that the actual course can be a good training ground for new players. Despite her club's excellent indoor/outdoor training facility, she likes to get her students out on the course, where Greystone has set up FAST tees (tees set for par three length), and lets them get a feel for the game.
"I try to structure my lessons and programs so the practice looks a lot more like golf," she says. "So there's more variability and you're changing clubs more frequently. It's harder to do that right up front, but it pays off in dividends sooner than for somebody who stands on the range and hits 50 7-irons. I try to have lessons simulate [an actual round of] golf as much as possible."
She adds that even when students do start playing on their own, it doesn't have to be for a full 18 holes – a four- or six-hole round can be just as fun and instructive until the student is ready for more.
Finding Your Groove in Group Lessons
Mattioli says individual lessons help explore your "personal recipe" for the game, but group lessons are also a vital component of instruction. "Students build community within the group sessions," Mattioli says. "[Women getting into golf for the first time] might find someone in the same boat with them to venture out on the course with. Someone they're not afraid to fail in front of. Part of succeeding is being able to look at your failures as instruction – for them to fail and to understand how to recover afterwards is an important factor."
Despite the challenges all new players face while learning to play golf, Mattioli says spouses playing the game together is "a good idea" – and for more than just having fun on the course – but it's a learning process on both sides.
"Golf is great for a marriage and family, building relationships and having something you enjoy together," Mattioli says. "I think most well-intended spouses are telling their new golf partner everything they've done wrong instead of just trying to help them understand the game."