Why Blackburn Golf Founder Loves Creating Solutions for Golfers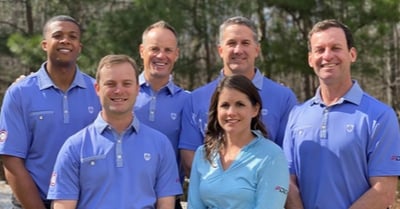 It's no secret that Mark Blackburn is a legendary pro when it comes to perfecting the game of golf. Named a top 50 golfer in America and the 17th best instructor in the country by Golf Digest, Mark has coached some of the best golfers around the world. Through his signature Blackburn Golf Academy, he's coached some of the best at Greystone, too.
Though Mark is known for his unique coaching philosophy among professionals, what you may not know is that this PGA Member has a passion for instructing youth, too. We're privileged to have him on our team, and we wanted to ask him what makes Greystone such a great place to teach – and learn.
The Greystone Performance Center Sets the Stage for Blackburn Golf Academy at Greystone
Mark established Blackburn Golf Academy two decades ago, but he brought it to Greystone full-time in 2014, eventually settling in the Greystone Golf Performance Center (GPC) when it opened a year later at the Legacy Course. The Performance Center offers members and guests year-round access to the state of the art teaching center, including motion analysis, one-on-one coaching, chiropractic services, custom equipment fitting and repair, and more.
The 2,500-square foot facility provides the ultimate learning environment for members and guests of the club, and has served as an essential tool for Mark's hands-on instruction. For example, with the Blackburn Golf V1 Online Academy, learners can record their swing with multi-camera V1 motion analysis and watch it back in slow motion – both right there in the Performance Center and at home after a lesson – to view and perfect their form in real-time.
Instructing Golf the Blackburn Way
The tech is only one of the ways Mark brings pro instruction to Greystone. Since joining the Greystone community, he's also recruited incredible talent. His first pick was Brian Speakman, PGA, as Operations Director and CFO, instructing players and overseeing all lesson programming at Blackburn Golf. Between Mark and Brian, Blackburn Golf Academy makes Greystone the only club with golf programming led by two Top 10 Alabama golfers.
Though golfers in the Academy may be learning alongside some of the best, one thing Mark emphases is that instruction at GPC welcomes all ages and abilities – and he really means 'all abilities.'
"We have complete beginners and after school programs, all the way to college developmental players, junior elite players, to people you see on TV," said Mark.
Golf Instruction with an "Open Door Policy"
Mark and his instructors take their coaching roles seriously, but they also know that for most players, golf is about having fun. To that end, they go out of their way to make this world-class experience enjoyable, not intimidating.
"I'm big on being more inclusive and really go by an 'open door' policy for members and non-members," said Mark. He says the best part about his job is watching younger golfers grow and develop. "Typically, not every club has those resources, most lack the technology," he said, "then our quality of coaching that goes with it."
Junior golfers, he said, get the best of both worlds. The junior program starts with complete beginners, and Mark coaches many of them one-on-one. In fact, he says they've probably taught him a thing or two: "The variability of the student level is a challenge which is good," said Mark. "I love creating solutions."
Though Mark currently lives on the 11th hole and drives a golf cart to work, he continues to travel the world looking for new perspectives to share with juniors and members. His goal? Give golfers the tools they need to pursue the sport they love as far as it can take them.
"We pride ourselves in being holistic and developing golfers so that they can one day recieve college scholarships and be on the PGA tour," said Mark.
The Future of Blackburn Golf is Bright at Greystone
Since the opening of the Greystone Performance Center and with the continued success of the Blackburn Academy, Mark says their program continues to thrive.
"Greystone has given me a great platform and they've been extremely supportive with my coaching, from Steve Smith, the Director of Golf down to each staff member of the Club," said Mark. "I have the support of the Greystone Board and I'm thankful they see the value in this."
Interested in lessons? You can test out Greystone's Golf Performance Center and our instruction by taking a drop-in class. Additionally, members receive full programming and non-members can participate for a small fee.