The 2021 Regions Tradition Comes Back Swinging After a Year Away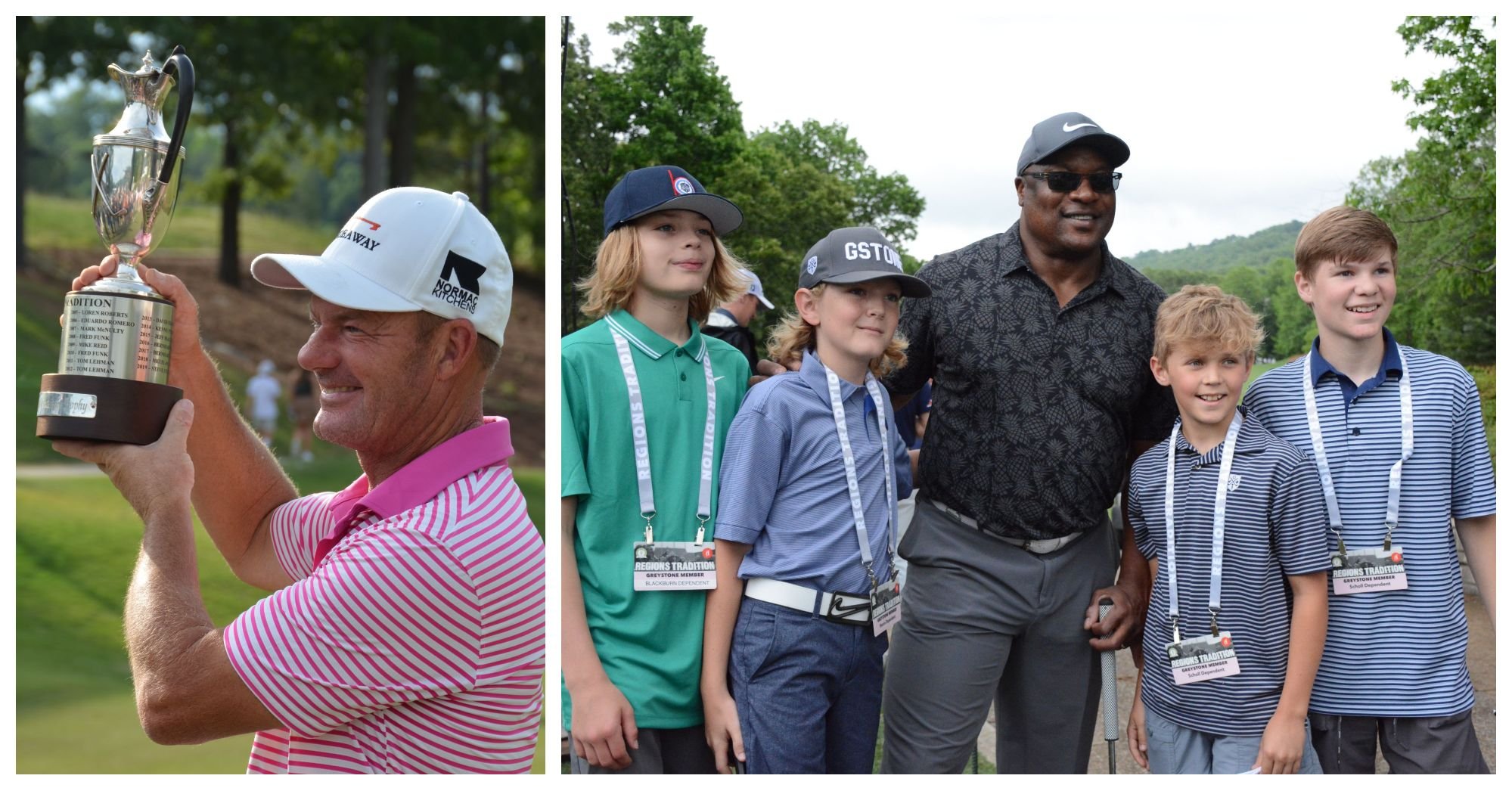 Left: Alex Čejka holding the 2021 Regions Tournament trophy. Right: Bo Jackson with young Greystone golfers during the 2021 tournament.
Another Regions Tradition has come and gone – but for Greystone Members, it wasn't just another event. As Greystone's first major public golf event following the onset of the COVID-19 pandemic, the 2021 Regions Tradition was a much-needed coming together.
"It was probably the best Regions we've had since it's been at Greystone" since 2016, says Dale Gorham, Club President. The energy built up from two years of waiting was unmistakable: "Everyone was so excited to get back together" to celebrate and enjoy five of the best days in golf, featuring special events, celebrity appearances, and, of course, to watch some of the best PGA Champions Tour players in the world compete at Greystone Golf and Country Club.
Fun for a cause, on and off the course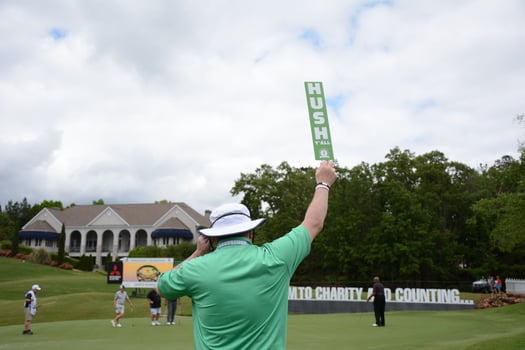 This year's event was special for many reasons – not least of which were the playing conditions. "It might be the first time in history we've had good weather for four days straight," Dale says with a laugh.
Bathed in Alabama sunshine, the rolling Founders Course set the stage for Czech-German Alex Čejka to earn his first PGA Tour Champions win at Greystone, clinching the title from defending champion Steve Stricker. Čejka, making his third start on the PGA Champions Tour, shot a 5-under par 67 on Sunday to force a playoff with Stricker. Čejka later rolled in a birdie putt in the playoff to earn the victory in the first major of the year on the Champions Tour.
The excitement on the course was only one way for attendees to soak up the sun at Regions. A performance from The Marshall Tucker Band after Saturday's round was one of the event's crowning pieces, alongside the gourmet food, drinks, and more celebrity appearances than you could shake a nine-iron at.
Nick Saban, Bo Jackson, Charles Barkley, Mike Mills of R.E.M., and more rounded out the 2021 Regions Tradition Celebrity Pro-Am, all for a good cause: This year, a total of $1 million was raised - $215,000 for Children's and $785,000 spread over 40 different local charities.
"We're more than just golf"
Dale says the relief and excitement of this year's event highlighted the real heart of Regions: the people.
"One thing we learned this year is that people miss being around people," he says. "You know, golf is a solitary sport, and you can social distance while playing it, but people still want to be around each other."
One story proves that more than attendance records ever could. Avery and Emma Jane Darden set up their lemonade stand in their grandparents' backyard overlooking the ninth hole of the Founders Course, where the Pro-Am was coming through. They came away with a $3,500 check bound for Children's of Alabama, thanks to hundreds of dollars in tips from thirsty players like Charles Barkley, Bo Jackson, and more, as well as Greystone families.
Stories like that "show we're more than just golf," Dale says.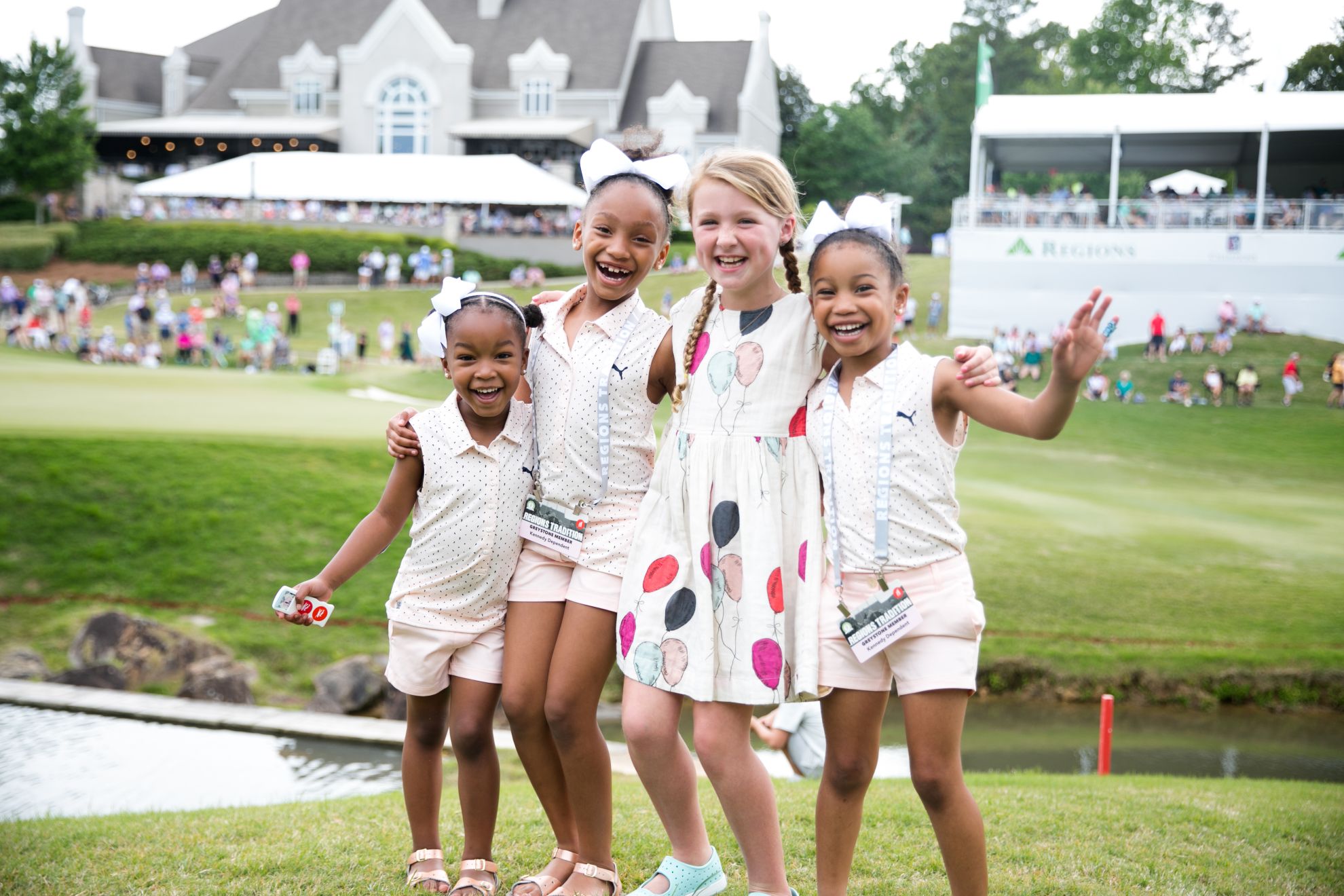 Photo credit: Grace Vroom, Bruno Events
The feeling of community that comes from events like the Regions Tradition - from members hosting backyard get-togethers to finding unique ways to raise additional funds for Children's – it's the lifeblood of Greystone and every single event that happens there. Greystone realized it long ago, and "clubs across the country have realized that, too," Dale adds.
In fact, visiting Greystone for the 1992 Bruno's Memorial Classic, the predecessor to the Regions Tradition, is what convinced Dale himself to become a member that same year. Once he saw the way the community came together to support a common cause, all while surrounded by the most promising athletes in the golf world, he knew he had to belong.
Now that Regions is back, Dale says, "I think there'll be a lot of people who feel the same way about Greystone in 2021.
"Each year, [Regions has] become more of a social event," Dale adds. The golf brings people together, but actually being together – "That's why you join a club," he says. "Camaraderie is what it's all about – mutual trust and friendship among people who spend a lot of time together." That feeling of belonging is what draws people to Greystone, and that's why they choose to stay.