Greystone Staycations: A Look into the Member Experience
This summer's vacations might look a bit different. Thankfully, membership at Greystone Golf and Country Club can feel like a vacation when you need it most. For example, member Mike McNulty and his family usually go to Pittsburgh for the Fourth of July but were unable to go this year because of the pandemic. Mike says they had so much fun taking advantage of Greystone's amenities that the McNultys are "not going to spend Independence Day in Pittsburgh anymore." With all the programming and activities at the Club, you can escape and stay safe without even leaving the gates. Let's take a look at a few different itineraries for staycations at Greystone!
Staycation #1: Food & Wine Enthusiasts
A Wine Enthusiast's staycation begins with a virtual wine tasting. Greystone delivers two bottles to your front door and provides the Zoom link while you sit back and learn about the different aromas and notes from a wine expert. Next, after bringing home a Chef's Box from Founder's Clubhouse, unpack the prepped ingredients for a chef-curated, three-course meal. Don your complimentary Greystone apron and spend time cooking together with video instructions right from Chef Alan. What better way to finish off that wine than enjoying a DIY culinary adventure?
The next evening of your staycation, head out to the Founders course for an early Sunset Cruise, an exclusive golf cart ride without the golfers. Point out your favorite holes over a complimentary glass of wine, hors d'oeuvres to-go, and unparalleled views! The next stop of the night is the Italian Wine Dinner at Amici, our signature fine dining restaurant in the Legacy Clubhouse. Indulge in an Italian four-course meal with wine pairings while conversing with a winemaker over Zoom. Greystone's offerings for wine- lovers can span a whole weekend without ever leaving the gates.
Staycation #2: Family Fitness
Golf and tennis are Greystone staples, but who says you can't make a whole staycation out of sports? Member Angie Beaubien says that her husband and son recently began playing golf together which is "something that absolutely would not have happened without lockdown keeping us in place. Nobody ever felt like they had the time." As for her? Angie took up tennis once again. "Our tennis community is really special. We watch out for each other at every level," she says. "I can even beat my husband!" One thing is for certain, friendly competition runs deep at Greystone.
For a staycation like the Beaubiens, start the weekend off with an appointment at the mobile golf shop. The golf shop's Mercedes Sprinter van pulls into your driveway so you and your family can pick out your favorite Greystone swag without leaving home! Wearing your golf shop haul, head over to the Golf Performance Center at the Legacy for a golf clinic with a certified instructor. They'll help you and your kids perfect your swing with multi-camera motion analysis and training. Greystone is the Home of Blackburn Golf, led by Mark Blackburn, the 2020 PGA National Teacher and Coach of the Year. After a day on the range, parents can show off their skills over a cocktail at Couples Golf & Night Putting.
The next morning, start the day right with an outdoor, socially distanced fitness class. The Fitness Center instructors create fun and effective programming: Angie's daughter took up outdoor strength training! After a round of golf or a match of tennis, relax in the evening with a family Dive-In Movie at the pool—the perfect ending t0 an active staycation.
Staycation #3: Parents' Haven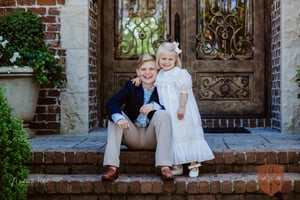 Before the kids get back from Greystone Kids Camp, swing by the Founders Clubhouse to pick up the Grab and Go meal you ordered online. Enjoy a quality three-course, family-style meal at home: no cooking or clean up required! Member George Trible can confirm Greystone's take out options "relieve the stress of cooking after a long day with the kids." Then, join Bingo over Zoom with Director of Golf, Steve Smith. Seeing other families on-screen plus Steve's silliness equals fun for the whole family: Bingo!
The next afternoon, make an appointment for a Front Porch Portrait and a professional photographer arrives at your home to capture your family. The result? Beautiful, stress-free family photos—with minimal complaints from the younger members. To end the weekend, order up a Date Night at home: Greystone delivers dinner for two, a four-course meal, linens, flowers, candles, wine, and pizza for the kids. Greystone makes parenting feel like a staycation.
Greystone life thrives, even during the pandemic. Member Kristen Pichel says, "it was like your world didn't really change." In fact, Greystone offers even more experiences than before. Member Patrick Werrlein raves about all the options open to Greystone members: "'Do we want to walk over to the café for a cappuccino? We could get a quick workout in prior to our 10:00 tee time. Should we go to Amici for Italian tonight or be more causal and grab a bite on the patio at Cellar 91 while we listen to live music? Either way, we should not make it a late night as we have a social tennis event tomorrow morning with some couples in the neighborhood.' This is our way of life at Greystone. Jealous? You should be!" If you're thinking about taking a staycation— enjoy the everyday life of a Greystone member—take a look at the Greystone membership guide below.