Player Development Membership Brings the Waggoners Closer as a Family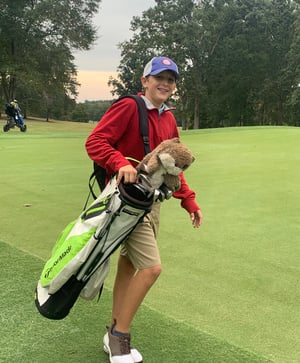 There are a lot of ways to enter the game of golf: A relative who loves the game might introduce you; perhaps a group of your friends interested in taking it up bring you along; maybe even a local pro spies a talented junior and decides to sponsor them.
Sometimes, an introduction to golf comes as a surprise – like parents who don't even play the game getting their kids into it. That's the case with the Waggoners, whose three student-athletes started golfing through Greystone's Player Development Membership program.
Leah and Clint Waggoner decided to get their kids into the game about three years ago. "We're not members," says Leah. "Clint and I signed the kids up to expand their opportunities, give them the chance to play golf at one of the nicest courses in the southeast, and to let them build their skill sets along with other competitive juniors."
Reagan (17) and Carter (13) have been playing the game since their parents first got them started, while Hope (15) joined a year later. Carter was a budding athlete before coming into golf (he will play football for Evangel Christian School junior varsity this fall), and claims to play the most golf of the trio, but Reagan and Carter were new to sports before they picked up the five iron.
Growing Up and Into the Sport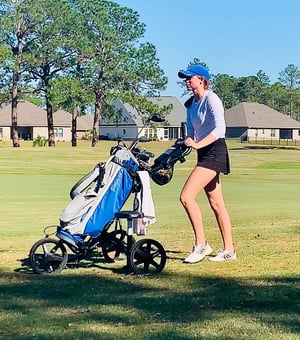 Even as golf newbies, it didn't take long for the kids to find a lot to love about the game. "Golf is a fantastic sport," Reagan said. "It's a game of accountability, where results are driven from what you put in. It's numbers-oriented and very motivating."
Her mother agrees, saying it "cultivates integrity" for young minds. "It teaches kids to work hard and treat others fairly."
The Player Development Membership at Greystone is the perfect introduction to the game. It provides golfers under the age of 25 access to both championship courses (Founders and Legacy), as well as cutting-edge practice facilities, including the Greystone Performance Center and a 24/7 fitness center (which Hope really enjoys).
"The kids have loved playing at Greystone," Leah says. "The practice facility is fantastic, and the courses are always in great shape. The environment is very family-friendly, and we love knowing they can work hard in a safe, fun place."
Giving Young Learners a Shot at National Competition – And Quality Family Time
As Player Development Members under 18, all three Waggoner kids also have access to local, regional and national junior golf competitions. So far:
Reagan had six top-five finishes on the Southeastern Junior Golf Tour in 2020, won the Mixed Team Championship (with Victor Kyatt, the 2019 Birmingham Golf Association champion), and played on the Southeast Junior Golf Tour (SJGT) Cup Team West (with another Player Development Member, Taylor Trible).
Hope won the Alabama Junior Golf Association (AJGO) event at Musgrove Country Club and Timberline Golf Club in 2020. She'll play a few SJGT events this year and played in the Birmingham Gold Association last summer.
Carter has played in the BGA for the last few summers, and looks forward to moving into bigger competitions as he grows.
Leah says that although she and Clint aren't members, they walk the courses with their kids often, soaking up the atmosphere of the game – and just getting them all out of the house, which can feel like an occasion these days. With Reagan and Hope getting closer to the age where they'll start flying the coop, that time means a lot to their parents (and vice versa).
"Our parents are both very involved in our lives," Reagan says. "They often come out to the course and walk with us, and it's good quality time."
Player Development Membership Provides Value for Non-Golfing Parents
Clint and Leah still aren't sure club membership is right for themselves, but they love Greystone Player Development Membership because it brings the family together with less membership commitment.
"It's a great alternative for parents who don't play golf but want the opportunity for their children," Leah says. It's less expensive than full membership, but no less valuable to families who want to connect over the great game of golf.
Even so, Leah admits that all that time on the golf course has made her think differently about the game." Though I'm still not sure that I'll ever really play," Leah says, "we LOVE being around it. Watching the kids fall in love with golf has been a blast. It's super fun to cheer the kids on, but we also enjoy walking, spectating, driving carts, dining and socializing in and around the sport."
You could look at the Waggoners as parents who got their kids into golf. But thanks to Player Development Membership, the whole family has found more than regional titles and a fun pastime – they've found more of each other on the course than they would have off it.