Racquet Sports Expand the Benefits of Club Life at Greystone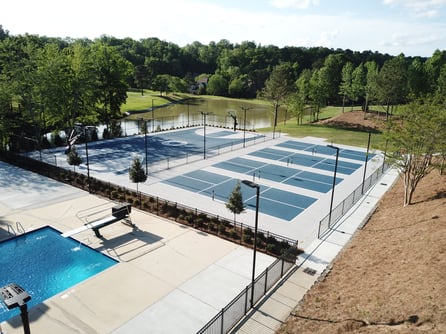 Many Greystone Members love swinging their golf clubs any chance they get. Other Members prefer to swing racquets. For those people, Greystone's already sterling facilities are getting even better.
"Pickleball is going to add a whole other social element to the Club," says Jenny Kimel. Jenny and her husband, Scott, have been Greystone Members since 2008 and are already big fans of Greystone's racquet sports. They each play tennis multiple times a week. Both of their kids (who are now adults) play too– even their new son-in-law plays tennis!
Jenny is excited for Greystone to add the pickleball courts to the new Lakeside Activities Center.
"Pickleball is a sport anybody can play - all ages, shapes, sizes," says Jenny. "I anticipate a bunch of couples to come out and play together because it's so easy to rotate in and out, giving everyone court time."
Picking Up Pickleball
Pickleball is a cross between ping-pong and tennis. If you've never played before, don't worry– Greystone has the right people to help you get into the game.
Kristijan Mitrovski, who has headed up tennis at Greystone since 2011, is also a certified pickleball instructor (along with Mitch Martell, Kristijan's assistant). Kristijan's official new title is Director of Racquet Sports and if you've never worked with him, but you want to start playing pickleball, you're in for a treat.
"Kristijan is probably one of the hardest working young men that I know," says Jenny. "My goodness, he is up at the crack of dawn, working hard and is so much fun. Along with tons of energy, he is equally as enthusiastic. Kristijan cares for everyone. He cares for their personal well-being, as well as their tennis abilities. Kristijan is just an all-around good guy with strong character."
Jenny says her family members really enjoy any chance they get to hit balls with Kristijan and she's not surprised he was named the USTA Alabama Tennis Professional of the Year in 2021.
Kerri Werrlein, who has been a Member for five years, also has high praise for Kristijan and what he's done with tennis and racquet sports at Greystone. "He's so dedicated and has implemented so many different events. He holds beginners clinics, juniors clinics, men's clinics, and women's clinics, and he cares about everyone and wants to see everyone do better. He respects his staff so much and they respect him."
Kerri plays tennis 4 to 5 times a week and "likes to run around like a maniac out there after that ball." She says adding pickleball will be great for Greystone because it will add another social activity that a lot of people can be a part of.
Acing Racquet Sports at Greystone
Jenny and Scott travel quite a bit, which helps them appreciate Greystone's racquet sport offering even more.
"We play in different places -such as other clubs and resorts- and I have to say that Greystone is among the best. It's really a beautiful facility that is also approachable and homey. We have an amazing opportunity at Greystone with our tennis facility and new pickleball courts. We are going to have so much fun!"
Greystone now offers Members 10 clay tennis courts, 2 hard courts, and 4 new pickleball courts. Kristijan and the other pros are always looking for ways to help Members get into racquet sports. They offer clinics and private lessons for juniors and adults. There are lots of tournaments and social events scheduled for Members throughout the year. We even offer Wimbledon on the Green once a year for those who love to play and compete on grass courts!
Along with the pickleball courts, the new Lakeside Activity Center offers Members access to a full-size basketball court, and fishing in the freshly-stocked pond. All-in-all it's shaping up to be the best year yet for Members with a full-time staycation at Greystone.