Greystone Golfer Caroline Waldrop is Coming Back Stronger than Ever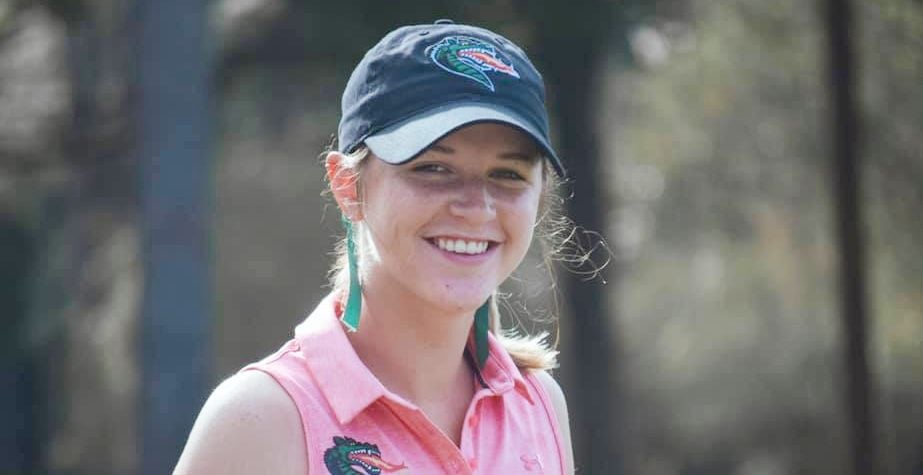 Caroline Waldrop has wanted this for a long, long time. Even as a child, and even in the spirit of friendly competition, she wanted to test her skills and leave her mark on the sport of golf. "I always wanted to be a little bit better than my friends," she says.
Now a University of Alabama at Birmingham golfer, Caroline was just six years old when she and her family visited Greystone Golf & Country Club. Spending time on and off the course, a young Caroline eventually found herself in front of an engraved plaque featuring the names of Junior Club Champions in the Trophy Room. That's where, according to family and friends, she had an epiphany – or whatever a six-year-old's version of an epiphany is.
"Apparently, I said, 'My picture will be up there on that wall one day,'" Caroline recalls.
Her own memory of the exact moment might be less vivid, but the impact was undeniable: "It's just something that's always been a goal of mine," Caroline says, unwilling to separate her dream of being a professional golfer from her lifelong self-image. That desire, and the identity that shaped around it, would carry her through crushing setbacks and to accomplishments that six-year-old Caroline never would have believed.
"Blue Shoes" Finds Her Footing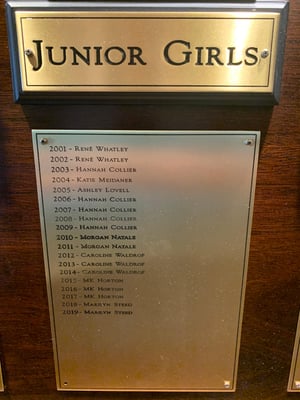 In the years following her elementary school revelation, Caroline studied with Alabama golf professionals, including those at Greystone, to develop her game. She says that some of her foundational golfing memories were made on the Greystone Founders Course under former Instruction Administrator Brooke Valente.
"Greystone was just full of a good collective group of people who pushed me to be better," Caroline remembers, including her own parents, who she says support her pursuit to this day. While making friends through golf, her high school years would prove to be some of the most formative for her identity as an athlete, even earning her a nickname: "Blue Shoes."
The origin of the nickname should be obvious – but simple though it was, it stuck, following Caroline throughout her primary education. "It was almost like a superstition," she says. Even teachers picked up on it, helping to brand Caroline with a reputation – a valuable asset for a budding athlete.
Following a successful high school career, including a state championship win with the girls' team, Caroline enrolled at Western Kentucky University, playing for the Lady Toppers while pursuing an art degree. But just two tournaments into her freshman year, Caroline found her collegiate golf career cut short by a chronic injury that took the better part of a year of golf from her.
Bouncing Back from Injury: "I Was Miserable … I Questioned Everything"
During the second round of her third tournament at WKU in late 2018, the mild strain she'd been experiencing in her arm – a constant for a golfer-slash-art student who uses her arm "24 hours a day" – reached a devastating pitch. By the fourteenth hole, she was in tears.
Diagnosed with both tennis elbow and golfer's elbow after the match, Caroline entered months of recovery. She entered another tournament in early 2019, but was forced out by chronic pain.
It was summer 2019 before she got back to the course in earnest after transferring to UAB to play for the Blazers. By that time, Caroline says she'd run the gamut of emotions – including how, if at all, to return to the sport she'd loved since childhood. "Once I came back, I questioned absolutely everything," she says. "I had a lot of fear about what I could still even do."
Caroline adds that easing back into golf was "a very frustrating and complicated process" that continues with daily maintenance even today, but it wasn't without its silver lining.
"I'm glad I went through it," she says. "Not knowing if I would ever heal was a lot to handle." The time away was a necessity for Caroline's health and a proving ground for her commitment to the sport.
Becoming Even More Than a Name on the Wall
The COVID-19 health crisis cancelled the Blazers' 2020 season Caroline was gearing up for. Though she was "crushed" by the news, she says she's staying on her game physically and mentally, ready to continue her momentum where it left off. "There's no stopping once we start," she says.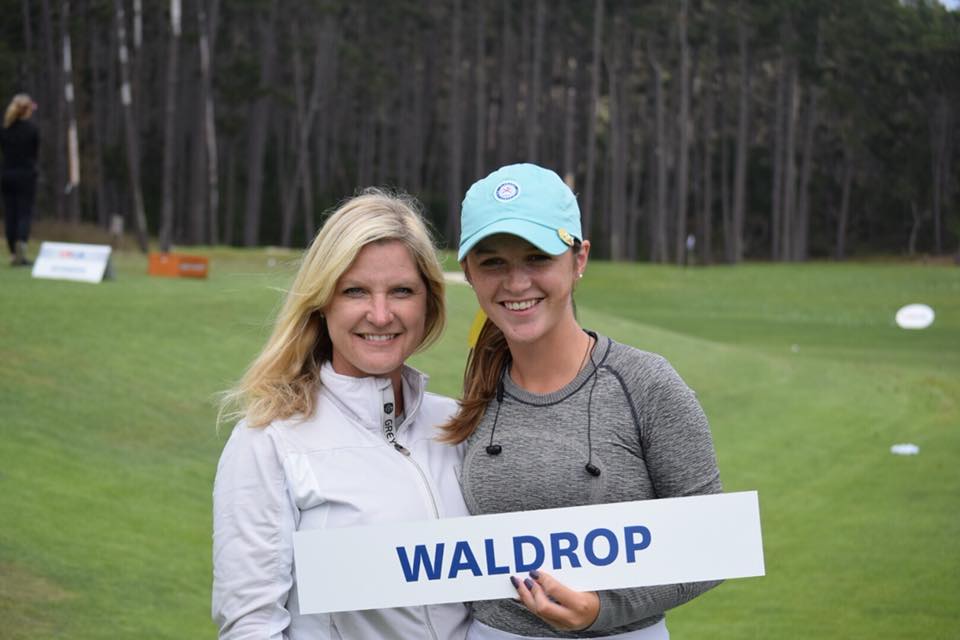 It's moments when her determination is tested, like her injury and the cancelled season, that make Caroline's epiphany in the Trophy Room resonate a little stronger for her. Of course, the name "Caroline Waldrop" was added to that plaque years ago – but the story, repeated more often by family and mentors than Caroline herself, is proven truer and truer each time it's retold.
"There have always been people that I've looked up to," Caroline says of the names she saw on that plaque when she was a child. "Walking in there that day made me motivated. It's one of the first things that really pushed me ... At the end of the day, [remembering that story] makes me happy that I've worked this hard. It's a story I need to hear sometimes."