Get to Know Chef Ciro Mancini, Il Cuoco of Amici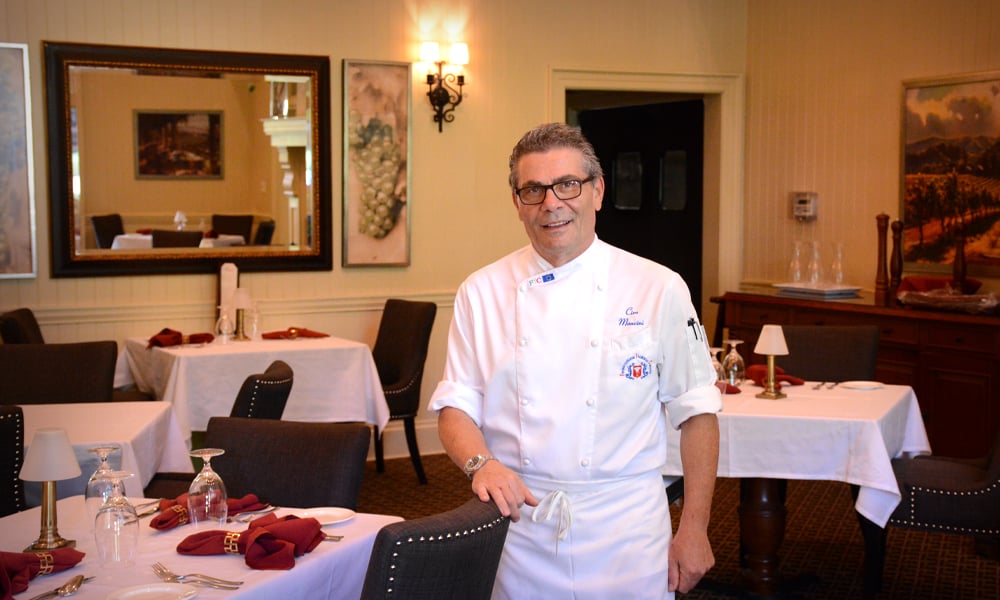 "It's like living in Tuscany," Ciro Mancini says. "The cascada, the waterfall – it's like you live in Italy."
But he's not talking about coastal Italy. Ciro, the Italian-born chef at Amici, is describing the first time he saw Greystone from the Amici patio. One of the newest additions to Greystone's cuisine scene, Chef Alan says Ciro is essential to the Amici experience, creating "authentic flavors that 'pop'" in an inviting, unpretentious, and balanced setting."
Whether you've met him or have still yet to visit Amici, take the time to get to know Chef Ciro's story, from his neapolitan upbringing through the journey to our oasis at the Legacy Clubhouse.
From Italy to Birmingham
Cuisine ran in the Mancini blood: Ciro's father was a pastry chef in Naples, a region of Italy known for its pasta, seafood, cheese, and vegetable dishes. "My father... taught me how to cook," Ciro says. With the guidance and support of his family, he pursued his culinary passion professionally in other parts of Italy before moving to the United States in 2004.
"I moved to the USA when I met my wife Clarita and decided to live the American dream," Ciro says. By this time, he still hadn't learned English – only Spanish with the help of his Colombian-American wife and the staff of kitchens he worked in. The national tongue came later, helping him understand the American palate and adapt his cuisine accordingly.
Amici's Cuisine is Rooted in Mediterranean Tradition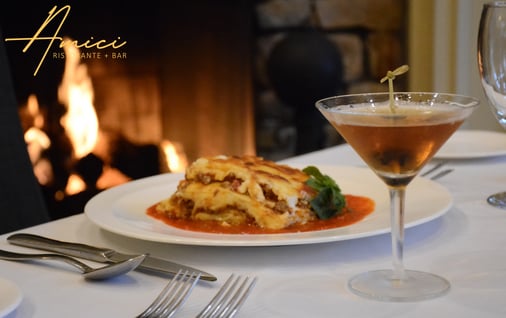 Even after almost 20 years of living the American dream, Ciro still credits his Mediterranean home as the influence of his most delectable creations. One of his personal favorite dishes to serve at Amici is bistecca alla fiorentina, a mouth-watering steak entree he learned from his maternal grandmother. It's made using high-quality meat from Chianina, an Italian breed of cattle and one of the oldest in the world, which Ciro says he ate throughout his childhood – and he seeks to prepare the dish the same way for Members and guests at Amici.
But bistecca al fiorentina is just one of the plethora of plates Ciro creates at Amici. Ciro is especially excited about two "wonderful ideas" he and Chef Alan have in mind: Ravioli all'Aragosta (ravioli with lobster) and Pappardelle al Cinghiale (Tuscan pasta with wild boar sauce). With a refreshed menu every two weeks, there's no shortage of new flavors to find at Amici.
What Chef Ciro Brings to Greystone
Amici is an intimate space designed to create an unforgettable dining experience for Greystone Members and guests. "The dining room at Amici is beautiful, intimate, cozy, and well appointed," Chef Alan Martin says. "The outdoor seating, waterfall, and mountain views add to the experience, but what makes it special is the true Southern hospitality and attention to detail."
The Amici menu is curated to match. "Ciro is dedicated to his craft and it comes through in his food," Chef Alan says. "He's charismatic and passionate and he lights up the room when he visits with diners." The feeling is mutual – when Members ask for Ciro's signature dishes, he considers that the real payoff for the effort he, Chef Alan, their sous chefs, and the Amici culinary team put into each dish.
"I like feeling not very restricted," he says of the freedom he has to create new dishes under Chef Alan. "It's a nice – what's the word in English? – it's a nice satisfaction when people ask for my food."
Always inspired by the experiences and flavors of his childhood in Naples, Ciro says he wants to make Amici – and Greystone – "a place where you want to stay."
Greystone Members can make reservations at Amici by clicking this link.